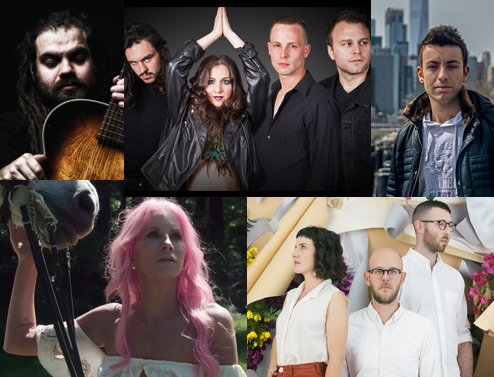 HIP Picks – The Weekly Client Roundup – Friday 8/25
August is coming to a close, and while the skies are gray today here in New Jersey, we're all smiles here at HIP HQ. We've had the pleasure of working on the promo team for some truly stellar clips lately and we're thrilled to share them with you. The newest HIP Picks weekly client roundup video gives the low-down on some of our current projects, and we'll tell you a little bit about each one below.
Allelujah's newest album The Death And Life Of Capt. Nathan Baker is inspired by scrapbook photos of the Civil War veteran. Their music draws on everything from guitar rock to avant-garde folk to gospel, and "Chariots On Fire" is a good clue to what the album is about. Lead singer Andy Byers has also worked in the film industry, collaborating with Isabella Rossellini on the Green Porno series about the mating rituals of insects. Some of the bizarre props he created make an appearance in the "Chariots On Fire" video, which also sees him get in to quite a sticky situation.
We had the pleasure of working with Jane N' The Jungle to promote the "Faded Stars" clip, and now the Arizona-based group are back with "Killed Someone." "Killed Someone" is bold and edgy, and the clip sees the band rocking out- meanwhile a crime story is taking place elsewhere in the city. The song will stay in your head and the mystery and suspense in the video are sure to draw you in.
Though he's original from Chicago, reggae / soul guitarist Van Gordon Martin has been a resident of Boston for more than a decade. With several music projects under his belt, he aims to spread positive vibes by sharing his story and love for guitar with the world. The "Let It Grow" clip is animated, and sees VGM spreading love and life as greenery grows throughout the city, bringing new beauty and vibrancy to the areas that need them.
While some of our clients also call the great Garden State home, we've had the pleasure of partnering with talented musicians from around the globe. We worked with Italian pop singer Elia to promote the "Time To Rise" clip earlier this year, and now he's back with "Your Sex Device." This time, we're at the beach, and Elia is persistent in his pursuit of a fellow beach-goer. It's a catchy tune with a surprise ending- be sure to watch the clip all the way through!
Natalie Page Bentley calls the Philadelphia suburbs of Chester County, Pennsylvania home, but with her new EP Amaurotic and a series of three music videos, she's transported us to another world entirely. Directed by Edan Cohen, "Ride Home", "Lost Girl", and "Holy Water" form a continuous story that's enchanting, gripping, and romantic. Fair warning: things get pretty steamy. "Ride Home" and "Lost Girl" are available now, and "Holy Water" will debut soon.
What new music videos have you had your eye on lately? Be sure to let us know on Facebook or Twitter what your favorite clip is this week!