Watch: SOLARDRIVE "Lovely"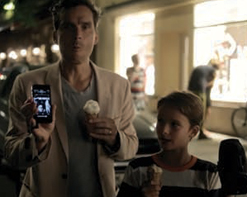 Over the summer, we brought you two stellar videos from SOLARDRIVE, the musical identity of actor Balthazar Getty. Both "Be Alright" and "No Drama" offered a glimpse into his unique and unconventional musical approach. Fans and video programmers agreed, the highlight being "Be Alright" winning the mtvU Freshmen voting competition and being put in rotation on the channel. Keeping on that upward trajectory, we are very excited to bring you the next video in the series of top notch DIY films, the aptly titled "Lovely."
In his 25 plus years of making music and establishing himself as one of the world's finest actors, Balthazar Getty just simply gets it. He knows what looks good and what sounds good. So it shouldn't be any surprise that the self-titled SOLARDRIVE LP was a completely self-produced venture that was the product of a manic three weeks in which holed up in his pool house-cum-home studio. "It was one of those things," he says, still seemingly dumbfounded that an album was the end-result of an almost obsessive, self-taught three-week crash course in new-age production. "I just sat there for a week and taught myself by trial and error. And I ended up making what I thought is a very interesting progressive album." It always helps to have a slew of talented musician friends around, but when it's all said and done, SOLARDRIVE is an album that captures a unique moment in time in the life of Balthazar Getty.
Like we said earlier, he's an artist that just gets it, and keeping with the DIY vibe of the album Balthazar offers up another candid video that captures a unique moment in time. "Lovely" sees Getty once again teaming up with director Severin Winzenberg. The video focuses on a leisurely stroll around a Europen city with his son Cassius. The paternal bond is touching and it's clear that beyond being a public figure, Balthazar is also a dedicated and loving father. It's all so natural and at ease, what better way to bring a song called "Lovely" to life?
Solardrive – Lovely from Purplehaus Music on Vimeo.