Here at HIP Video Promo, we've been working hard to promote music videos since the year 2000. It's important to us to help younger and independent artists get the recognition they deserve, and it's exciting to be on the ground floor with artists that become household names (and with over 4000 videos under our belts in 21 years, there are quite a few). Every Friday, we'll be sharing a "Flashback Friday" video, where we get to reflect on one of our favorite videos from a few years ago.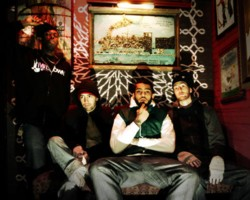 Since their founding back in 1996, Fueled By Ramen has been one of the most prominent labels in alternative music, and it was a total blast working with them to help break some now household names, including none other than Gym Class Heroes. From Upstate New York, they're easily classified as a hip-hop act, but they've got something unique: with roots in the world of emo and alternative rock, they play all their instruments live. Frontman Travie McCoy met drummer Matt McGinley during their high school gym class in 1997; guitarist Disashi Lumumba-Kasongo and bassist Eric Roberts were added to the group in 2003 and shortly after, the group signed to Fueled By Ramen.
Gym Class Heroes' first label release (and second album overall), The Papercut Chronicles, was released in February 2005. That spring we shared the video for the lead single, "Papercuts." "Papercuts" has a unique blend of indie/emo-influenced guitar parts as Travie rhymes about his obsession with a love interest who's less than reliable. The video was directed by Alan Ferguson (Jay Z, Busta Rhymes), who gives us a window into Travie's desperate attempts at interacting with the girl. While things don't quite go according to plan, it's an entertaining clip that ends with a unique twist that forces our frontman to separate imagination from reality.
The song that truly launched Gym Class Heroes into a new stratosphere of success was the follow-up single, "Cupid's Chokehold." Originally released on The Papercut Chronicles, it was later re-recorded for the second version of the 2006 follow-up As Cruel as School Children, with Ferguson directing a new version of the video. It reached #1 on the Mainstream Top 40 and #4 on the Billboard Hot 100, with the album landing at #35 on the  Billboard Top 200.
Gym Class Heroes have since released two more albums, The Quilt in 2008 and The Papercut Chronicles II in 2011. They were inactive following the August 2012 release of the music video for "Martyrial Girl$", but several years later joined Fall Out Boy's MANIA Tour.
---
We've been fans of Gym Class Heroes since day one, and we're eager to see what else they have in store for the future! We can't wait to see who becomes the next break-out artist. Do you think your video has what it takes to be the next break-out smash hit? Get in touch with Andy Gesner and the rest of the HIP Video Promo team by giving us a call at (732)-613-1779 or emailing us at info@HIPVideoPromo.com.