Here at HIP Video Promo, we've been working hard to promote music videos since the year 2000. It's important to us to help younger and independent artists get the recognition they deserve, and it's exciting to be on the ground floor with artists that become household names (and with over 4000 videos under our belts in 21 years, there are quite a few). Every Friday, we'll be sharing a "Flashback Friday" video, where we get to reflect on one of our favorite videos from a few years ago.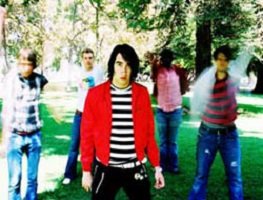 More than a year before "Hey There Delilah" became a hit, Chicago natives Plain White Ts released their album All That We Needed in January 2005 on Fearless Records. In April of that year, following tours supporting everyone from Jimmy Eat World to Saves the Day to Sugarcult, we began the promotional campaign for the music video for "Take Me Away." The song felt like an instant classic (fitting, following the band's name), with a soaring chorus as vocalist Tom Higgenson declared his frustrations of seeing his ex-girlfriend with her new beau. The video feels straight out of the eighties, with appropriate posters on the walls, plush carpeting, and everyone in pastel and day-glo clothing. Plain White Ts are energetic in their performance but there's also hints of awkwardness, as they're surrounded by scantily clad young women who are playful and suggestive in their movements. Will things work out in the band's favor? Tune in to find out for yourself…
The following spring, "Hey There Delilah" was released as a single and after more than a year of extensive mainstream radio airplay and a re-release on the band's follow-up album Every Second Counts (Hollywood Records / Fearless Records, 2007) it reached Number 1 on the Billboard Hot 100 in July 2007. "Hey There Delilah" has since been certified four times platinum in the US. The song even received two Grammy nominations in 2008 for Song of the Year and Best Pop Performance by a Duo or Group with Vocal.
Since then, Plain White Ts have released four more albums: Big Bad World (Hollywood Records / Fearless Records, 2008), Wonders of the Younger (Hollywood Records, 2010), and American Nights (Megaforce Records, 2015). In 2017, they released the music video for "Land Of The Living" and announced their return to their original home of Fearless Records. Higgenson told Billboard, "[Going back to Fearless] really was like going back to the people you know believe in you, and they got your back no matter what." Following that, in 2018 Plain White Ts released Parallel Universe.
---
We've been fans of Plain White Ts since day one, and we're eager to see what else they have in store for the future! We can't wait to see who becomes the next break-out artist. Do you think your video has what it takes to be the next break-out smash hit? Get in touch with Andy Gesner and the rest of the HIP Video Promo team by giving us a call at (732)-613-1779 or emailing us at info@HIPVideoPromo.com.