Here at HIP Video Promo, we're all about helping promising new indie artists make it big. There's nothing more satisfying than working hard to promote a music video, and seeing the success of that video help springboard a band's career to the next level. Hearing these stories – of how a hard-working act was able to make it big! – is a surefire source of inspiration and motivation for the next generation of new stars, so we're thrilled to present you with a new segment on the HIP blog: Motivation Monday, where we share motivational stories of our beloved current and alumni clients.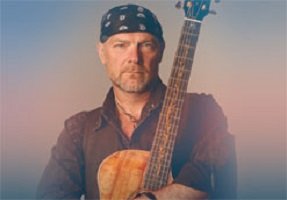 Les Stroud had very humble beginnings. Born and raised in Toronto Canada he has always had a taste for nature and music. He graduated from Mimico High School and later went to study music industry art at Fanshawe College in London, Ontario. He worked a few years behind the scenes in the music business but picked up a few other jobs to pay the bills. Not long after he graduated from college, he worked as a garbage man. Les Stroud had a plan of action to redefine himself from struggling student to a musician. He had envisioned himself a future, but there was no way he was prepared for the level of success that was to come.
He put his iconic harmonica playing and art-folk roots to the test as he introduced his viewpoint to contemporary rock. He released a self-titled album in 2006 followed by a variety of single and music video releases – this year, we've promoted the clips for "How Long" and "Big Yellow Taxi." His album Mother Earth was produced by rock legend Mike Clink and includes a solo from Slash of Guns N' Roses fame on the lead single "One Giant Farm." His most recent album, Bittern Lake, highlights the amount of wisdom he has gained from his time in the industry. Just by pursuing his dreams he was able to perform with legendary acts such as Slash, Journey, Jonny Lang, James Cotton, Steve Stevens, Alice Cooper, Steven Stills, Tommy Shaw, Robbie Krieger, Blues Traveler, Tesla, Jakob Dylan, Randy Bachman, Chicago, Montgomery Gentry, Lynyrd Skynyrd and The Roots. Although his heart was in the music, Les Stroud had another trick up his sleeve as he used his education to pursue his various different hobbies which evidently turned into full-fledged businesses.
Not only is his a certified rock star, he also wrote theme songs for various TV series and scored several independent films. He has won numerous regional music festivals and recorded four CDs. At this point, Les Stroud began to realize that his talent was bigger than he had ever imagined and envisioned. Not only is he a musician, author and activist present day but he is also is the producer, writer, cameraman and host for the hit television series known as Survivorman. Did I mention he also created it?
When Survivorman debuted in 2001, Les became the first person ever to take on such a task and have it work out. The show became an instant hit and it was hosted on Science Channel in the United States in 2003. It quickly moved over to the Discovery Channel due to its rightfully deserved popularity. He created an entirely new genre of programming that morphed him into a household name. Not only did he star in his own self-made success, he has appeared in and produced numerous Discovery specials including Shouldn't Be Alive; the Science of Survival, Surviving Sharks, Expedition Everest, Surviving Urban Disasters, Surviving Alaska, Deadliest Waters, and Shark Feeding Frenzy. He also had the honor of hosting the 20th anniversary of Shark Week- who doesn't love Shark Week?
Les Stroud started off as a struggling college student who was so desperate for money he even worked as a garbage man. Now, he has a legacy that will transcend time. Les Stroud never gave up on his dreams, and never even doubted himself, which is a stunning example of work ethic. He pursued his passion for music but he didn't allow that to cloud his other various natural talents. One specific asset you have does not define you but the array of untapped potential is sitting within you. Once you channel your inner power your entire world evolves and changes as you morph into your higher self. Just because one finds success in one aspect of one's creativity does not dilute the others. The biggest lesson we can learn from Les Stroud is to never doubt oneself and to encourage us all to grow into our higher self to arrive at our spiritual destination.
"Courage is the facing of a challenge with a healthy fear, not being fearless." -Les Stroud