Here at HIP Video Promo, we've been working hard to promote music videos since the year 2000. It's important to us to help younger and independent artists get the recognition they deserve, and it's exciting to be on the ground floor with artists that become household names (and with over 4000 videos under our belts in 21 years, there are quite a few). Every Friday, we'll be sharing a "Flashback Friday" video, where we get to reflect on one of our favorite videos from a few years ago.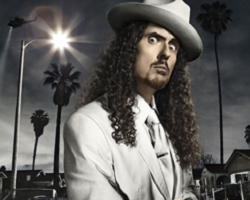 More than forty years in to his career, Weird Al Yankovic – known to some simply as "Weird Al" – has released 14 studio albums, sold over 12 million albums (he has four gold records and six platinum records under his belt), won four Grammy Awards (and been nominated for eleven more), and created an iconic brand for himself as a comedic satirist with his popular parody and original songs. He's always had a knack for creating fantastic visuals to accompany his songs, where he parodies the original songs and videos as well as trends and fads inpopular culture. More than a decade ago, in 2007, we had the opportunity to partner with Weird Al to promote not one, not two, not three, but four hilariously entertaining music videos:"White & Nerdy", "Do I Creep You Out", "Don't Download this Song", and "I'll Sue Ya".
"White & Nerdy" (which parodies Chamillionaire's classic "Ridin Dirty") sees Weird Al narrating a day in the life of a calculus-loving, lightsaber-wielding geek; directed by JibJab, "Do I Creep You Out" casts Taylor Hicks' "Do I Make You Proud" as a stalker's confession; "Don't Download This Song" is a style parody of songs like "We Are The World" and "Hands Across America" that follows a young music pirate on the run from the police; and "I'll Sue Ya" is a spot-on take of Rage Against The Machine's rap-rock aggression. We're shown four different musical styles and four different visual interpretations, but there's one common thread across all of Weird Al's musical output: he knows exactly what it is that needs to be parodied, spotlighting details for a satire that's at once timely and timeless.
Eleven years later, Weird Al is still a peerless artist whose parody and satire skills just can't be matched. He continues to create incredibly entertaining videos to accompany his songs: for his most recent album, 2014's Mandatory Fun, he released eight music videos over eight consecutive days, believing that it "would make an impact because people would be talking about the album all week long." He was right: thanks to portals like Funny or Die and CollegeHumor, he amassed over 20 million combined views for these videos in the first week alone.
Weird Al has parodied everyone from Michael Jackson ("Eat It" ["Beat It"] and "Fat" ["Bad"]) to Nirvana ("Smells Like Nirvana" ["Smells Like Teen Spirit"]), and brings a mixture of current and classic favorites, medleys, and countless costume changes for an experience not to be forgotten, and sure to be laughed at by everyone in attendance. To see what he's up to now, check out Weird Al's website.
---
We've been fans of Weird Al since we first saw "White & Nerdy", and we're eager to see what else he has in store for the future! We can't wait to see who becomes the next break-out artist. Do you think your video has what it takes to be the next break-out smash hit? Get in touch with Andy Gesner and the rest of the HIP Video Promo team by giving us a call at (732)-613-1779 or emailing us at info@HIPVideoPromo.com.