Here at HIP Video Promo, we're all about helping promising new artists make it big. There's nothing more satisfying than working hard to promote a music video and seeing the success of that video help springboard a band's career to the next level. Hearing these stories – of how a hard-working act was able to make it big! – is a surefire source of inspiration and motivation for the next generation of new stars, so we're thrilled to present you with a new segment on the HIP blog: Motivation Monday, where we share motivational stories of our beloved current and alumni clients.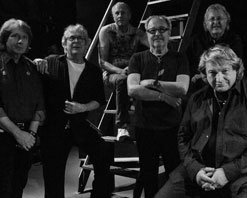 For this week's Motivation Monday we present to you one of our most popular rock acts of all time: Foreigner. To think that these legends were just small musicians once upon a time is mind-boggling but one can definitely wrap their head around it. According to Business Insider, they were named one of the Best Selling Music Artists of All Time and were ahead of Britney Spears, Bob Dylan, Phil Collins, Prince, Queen, Bon Jovi, and Def Leppard. 2017 marked their 40th anniversary and today we take a look back at their glory years that defined a generation.
Foreigner consists of Mick Jones (lead guitar), Kelly Hansen (lead vocals), Jeff Pilson (bass), Tom Gimbel (flute, rhythm guitar, saxophone), Michael Bluestein (keys), Bruce Watson (lead guitar) and Chris Frazier (drum). This English rock band came together in 1976 in New York City. Each member had been enthralled with music and was apart of many different groups that fell at the seams; with the 70s coming to an end, a new musical era began. By combining rock, progressive, R&B, and pop into a cohesive style, they stood out and rocked out even harder. They quickly signed a deal with Atlantic Records which helped them produce their debut self-titled studio album in 1977. Their second studio album Double Vision did even better, and it sold 7 million copies by 2001. Present day, they have ten multi-platinum albums and sixteen Top 30 hits. Their talent and legacy continue to sell out tours and album sales, which are now exceeding 75 million.
Foreigner continues to take over and has left its mark on rock and roll with some of the most enduring anthems including, "Juke Box Hero", "Cold As Ice", "Hot Blooded", "Waiting For A Girl Like You", "Feels Like The First Time", "Urgent", "Head Games", "Say You Will", "Dirty White Boy", "Long", "Long Way From Home" and the worldwide #1 hit, "I Want To Know What Love Is."
Listen to "Juke Box Hero" here:
With their catalog sales often eclipsing those of peers like Led Zeppelin, AC/DC, the Rolling Stones, the Who, Def Leppard, Van Halen, and Aerosmith, Foreigner decided to celebrate their reign. This party was in the form of a European tour that included Foreigner performing orchestral versions of the hits with the 21st Century Symphony Orchestra in Lucerne, Switzerland. We had the pleasure to promote the clips for "Double Vision" and "Urgent", and it would be an understatement to see this campaign was a success!
Listen to their live version of "Double Vision" here:
And check out "Urgent" here:
With a love for music and the heart to create, the members of Foreigner turned their passions into a career that led to a lasting legacy. They didn't let their previous failures get to their head but rather they used them as inspiration to get better at their craft. Finally finding perfection, they used their varied talents to become one with their music and the synergy shows. Working hard will always pay off and no one should ever give up on their dreams. In between the lines of friendship, love, and music, a legacy was born and as long as rock music is played, they'll continue to be heard. If you have a voice- use it or continue to be silenced by the wolves that stand up for their right to be seen.