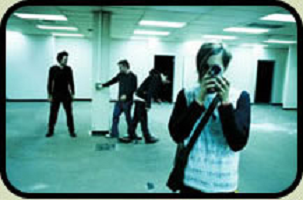 Flashback Friday: 30 Seconds To Mars
January 20, 2023

Presenting: HIP's Year in Review for 2014
January 26, 2023

New This Week: "The Shirt Song" music video from Jasmine Crowe, plus new music videos from Bruce Sudano and Robert Abernathy
Many musicians use their life story and their unique background to paint vivid pictures in their music – and those aural pictures are brought to life on screen in this week's batch of new music videoThe latest HIP Picks – Weekly Client Roundup is here; take a look at the videos, and learn more about the clips by reading below.
"The Shirt Song" Music Video: Jasmine Crowe (pop)
Encino, California singer-songwriter Jasmine Crowe knows: nothing feels better than wearing a boyfriend shirt. Her new song "The Shirt Song" is as sweet, welcoming, and toasty as a cotton top fresh from the dryer, and the video (directed by Jeremy Eichenbaum) is one long flirtation, a love letter from the artist to her beloved.
"Make The World Go Away" Music Video: Bruce Sudano (singer-songwriter)
Beginning with the bands Brooklyn Dreams and Alive N Kickin', then a prolific songwriter, and now an artist in his own right who also runs the indie record label Purple Heart Recording Company, Bruce Sudano is known for his long-standing music career. "Make The World Go Away" follow the EP Spirals Vol. 2… Time & The Space in Between and the video (directed by Kira Mazur) shows a familiar approach to facing life's frustrations: putting on some music and dancing the worries away.
"Big Bass Problem" Music Video: Robert Abernathy(country)
As the frontman of country/rock band Shotglass, Robert Abernathy garnered attention and was asked to play solo shows. He's built a following and earned accolades like being named the #1 Country Artist by The Bash (formerly Gigmaster) from 2016-2021 and Alabama Male Country Artist of the Year in 2018. Now, with regular gigs on Broadway in Nashville and over 300 original songs in his pocket, he's poised to become country music's prodigal uncle with his "Big Bass Problem" music video (directed by Luis Ernesto Gonzalez Hernandez).