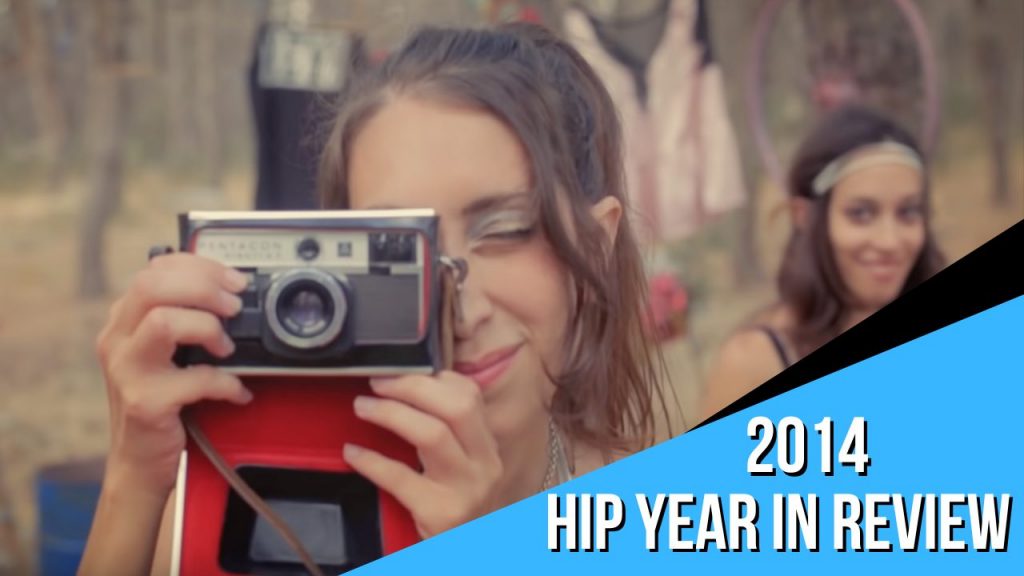 Daft Punk won five Grammy awards, the ALS Ice Bucket Challenge went viral, and Better Call Saul premiered on AMC. These are just three of the major moments that defined 2014. At the same time, HIP Video Promo teamed up with yet another batch of talented creatives for these 2014 music videos: 
Pixies – "Ring The Bell" – 304,427 views – After releasing several back-to-back compilations leading up to 2004, Pixies disappeared from the rock music scene almost entirely for a decade. When the Indie Cindy album came out in 2014 – you can only begin to imagine fans' excitement as the Pixies returned so triumphantly. Black Francis discusses his lyrical inspiration for "Ring The Bell" in the track-by-track explanation for the album. He says it's about a person returning to earth from space to go back to their childhood homeland one last time before it's fully submerged by the sea. In actuality, the bell is an alarm because the singer is a firsthand witness to the final pieces of land being engulfed by the natural flood. Hearing this detailed storytelling envisioned for "Ring The Bell" brings the song to the next level, as you can better hear now that you know the story under the surface. 
Sheila E. – "Who I Am Now" – 35,063 views – It is unbelievable how time goes full circle. We had the pleasure of championing the acclaimed drummer and vocalist Sheila E. for "Who I Am Now," a masterpiece music video illustrating her reflections on some of her proudest personal moments and musical eras to date. She is authentic and vulnerable in this single, explaining how she has become who she is today while paying homage to her younger self for all her growth. The then-and-now photos and videos smoothly transition into her present-day performance of "Who I Am Now." It creates a powerful effect that will touch and move you emotionally, whether this is your first impression of Sheila E. or if you have lost count of how many of her extraordinary projects you have listened to and watched. It is no wonder her fourth album, including "Who I Am Now," is titled ICON because that is precisely what Sheila E. has become over her profoundly successful career. Fast forward to 2023, HIP is now partnered with her godson, Mychael Gabriel, who has undeniable artistic potential that certainly lives up to her star quality too. 
ALVVAYS – "Archie, Marry Me" – 9,959,284 views – When a music video has this many views, audiences go into it with unambiguous expectations for magnificence and memorability. The vintage style of the music with the grainy footage of Molly Rankin and her band members singing and sailing to "Archie, Marry Me" meet them effortlessly. Opening with romantic clips of a wedding cake and Rankin dressed up in white, she divulges the reasons why the timing for their union is not right for her love interest yet, but she implores him to see it through in each round of the chorus. She is not looking for a grand celebration; she simply wants them to be officially married and live their lives together. The Alvvays flag waves high in the wind aboard the boat they are performing on for most of the video and trust us when we say that you will be rooting for Archie to pop the question when all is said and done here. 
Asia Featuring John Payne – "Eye in the Sky" – 12,556 views – Perhaps you remember the 1982 Billboard-charting hit "Eye in the Sky" from the Alan Parsons Project, considering it was one of the group's biggest hits and was also the title track of their 1982 album. In 2014, Asia Featuring John Payne put their spin on the song as part of their cover album Recollections: A Tribute To British Prog. Asia Featuring John Payne's "Eye in the Sky" strikes the perfect classic and progressive rock balance between the original sound and their own. Payne's vocals align with Eric Woolfson's mojo but bear more oomph and intensity in the peppy, modernized "Eye in the Sky." Asia Featuring John Payne also gave "Eye in the Sky" the music video it never had, complete with poker face players at casinos and an all-out concert to experience on our screens.  
Tritonal – "Anchor" Original Mix – 1,269,310 views – There is more to this pop/EDM single than the average danceable club jam track. The message is deep, honing in on that person who is your anchor to keep you grounded and who you genuinely can't live without. The beats make it impossible to sit still, but the lyrics are relatable and sentimental in a way that places "Anchor" in a class by itself. The visual latches onto this theme with strobe flicker transitions to match the energy and well-crafted storytelling of the main character on an exhaustive quest to be rejoined with his anchor. Seeing the flashbacks of the pair before the shipwreck on the island inspires the search further, as more moments like those can only transpire if they get through this challenging circumstance. Since Tritonal debuted in 2012, they earned plenty of attention and exposure for these sorts of unparalleled genre productions. They are still going strong making such music in 2022, having multiple new EPs and albums to check out, plus even more since this stand-out song and video from 2014. 
Bob Mould – "I Don't Know You Anymore" – 287,362 views – The skit between Bob Mould and frontman Colin Meloy of The Decemberists sets up the rest of the "I Don't Know You Anymore" video. Listening back on their exchange today is interesting, as times have changed even more than Meloy describes it to Mould. Not only have flip phones reached the brink of extinction, but even Tumblr has become yesterday's news. It is all about TikTok now! Yet, a cameo appearance like this one, which is advised by Meloy, still causes music lovers to swarm a new release. His marketing perspective also applies in the present: "If you want to sell something, you have to make the people believe it's going to make their lives better – that they can't live without it." So, Mould arranges for his "I Don't Know You Anymore" single release to be a huge event and marketing campaign that transforms the Music Millennium record store into the New Millennium record sale, as their new approach to reaching fans catapults Mould's crew into the future. It seems the mission was accomplished, as we are still going back to "I Don't Know You Anymore" after all these years. 
Thievery Corporation – "Depth Of My Soul" – 600,699 views – Technically in the electronic music category, Thievery Corporation is more concerned with producing multicultural projects that unite their listeners far and wide. With "Depth Of My Soul," from their seventh studio album Saudade, the focus was on the Brazilian-inspired samba and jazz fusion. Featured artist Shana Halligan lends her heavenly vocal timbre with just the right amount of airiness and mysteriousness to suit the instrumental. The fluttery piano with the bass voices and digital strings create an intricate backing track for her easygoing singing in "Depth of My Soul." The wintery landscape as the woman in white rides on her black horse, meeting frosty figures from her past along the way, complement the sonic aesthetic nicely. Especially with the intriguing ending, as she meets the dark, unidentified figure in the isolated cabin, it does not take much convincing to see and hear the cinematic nature of this clip with "Depth Of My Soul" as its soundtrack over and over again.  
Agnes Obel – "Dorian" – 5,283,573 views – In the multiple interviews around Agnes Obel's "Dorian," she explains the complexity and arcane meaning of this song. She told The Line of Best Fit that "Dorian" is more a state of mind than a person, representing the overlooked differences between what is believably comprehensible from the outside versus the visible reality known on the inside. Obel presents this so artistically in her abstract lyricism, with Dorian taking the form of a person looking in. The highly-exposed, black-and-white noir video footage plays on the idea that these things are not as black-and-white as they may seem while also tying in dancers from "The Very Eye Of The Night" film by Maya Deren into this point-of-view story. Obel's multilayered work with "Dorian" could not have been better executed, and it certainly made a great single for the Aventine album following her smashing debut, Philharmonics.  
Rocky Dawuni – "African Thriller" – 164,354 views – Rocky Dawuni's performance on the suspended metal mic in the boxing ring has all the soul, pop, Afrobeat, and reggae flair that we could ever ask for. The catchy rhythms and horn-led instrumental breaks in the "African Thriller" deliver the Ghanaian culture in a way that international audiences can easily welcome and appreciate. Trained African dancers in the visual "shake it till it go be hot, hot!" in their vibrant-colored, distinctively-printed clothes. The crowd in attendance for this showing is visibly pleased and entertained. This should come as no surprise, knowing Dawuni's Branches of The Same Tree album with this hit was nominated for a Grammy award for Best Reggae Album in December 2015. In October 2022, he had a live show at the Soka Performing Arts Center in Aliso Viejo, California. In November 2022, he received his third Grammy nomination for his latest single, "Neva Bow Down" featuring Blvk H3ro. We have been huge fans of Dawuni and his music since this first campaign in 2014 through his most recent with HIP in 2020, so you can bet we are rooting for him to come out on top for this year. 
Gary Numan – "Love Hurt Bleed" – 1,135,905 views – Even though the lyrics are simple, they're not as straightforward as you may think. It could be tricky pinpointing the core inspiration of greed and doing anything to get everything desired that Gary Numan fed off of for "Love Hurt Bleed." The song blends his successes from the late '70s and early '80s with the darkness he ushered into his later releases. The EDM backing track is potent in this regard, and the short moments of complete silence break up the song and add to the haunting essence of the video as well. The entrancing shots of Gary Numan singing "Love Hurt Bleed" on an old-school TV transfix the woman on the other end as she gets more wrapped up in tape as the song finishes. As this was part of Numan's musical comeback, it was a big deal, and his loyal followers took it with open arms. For a deeper dive into his return to the stage and studio, stream his documentary, Gary Numan Resurrection, or read the 2022 article by The Guardian about Numan's journey up to this point. 
Jamestown Revival – "California (Cast Iron Soul)" – 896,238 views – Backed by the crashing waves behind them, Jamestown Revival starts the "California (Cast Iron Soul)" music video with their unrefined, irresistible harmonies. By the first chorus, they're teleported onto a stage, singing to an enormous crowd as drums and guitars build into the big hit. Their soulful vocals follow similarly, and regardless of whether they're singing casually at the beach with the sunset sky, in their rehearsal space, or in front of a pool of people, they give it their all, and it shows. It's still showing today, from their Young Man album dropped in January 2022 to their brand new Songs That Sleigh Christmas EP to close the year. As we enter 2023, Jamestown Revival will remain on our radar just as they have since 2014 for their unequaled country, folk, Americana, and Western rock stylings.
Written by HIP Marketing Coordinator Julia Block.