HIP Picks: New Videos from Jane N' The Jungle, Steve J. Allen, and more | 9/30/2021
October 6, 2021

HIP Picks: New Videos from Denzell Terrell, SIN FOR SAINTS, and Staunch Moderates | 10/15/2021
October 19, 2021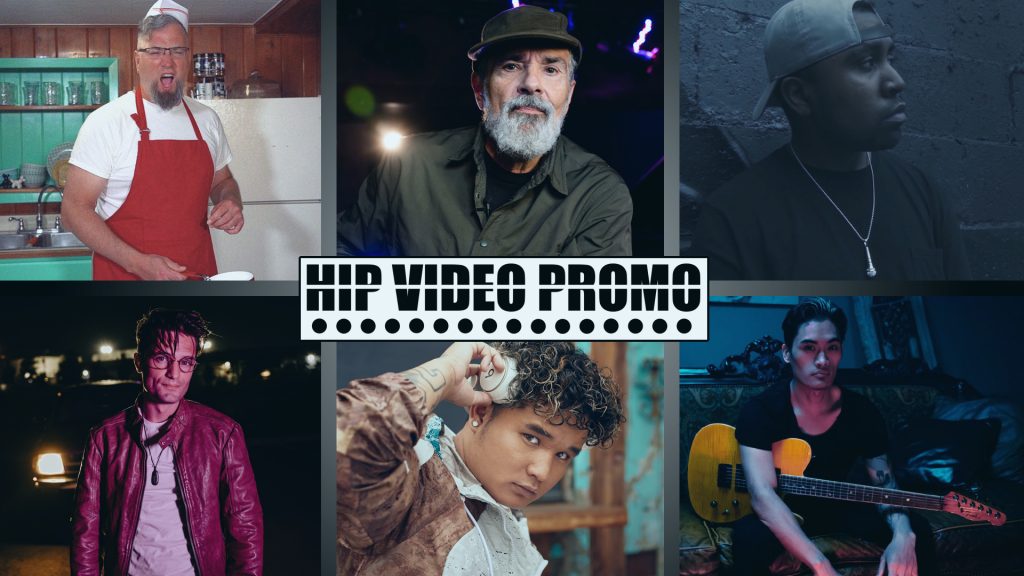 New This Week: "Cooler" music video from AJ Smith, plus new music videos from Dennis J. Leise, Star 2 feat. Luh Kel, James Worthy & Big Gipp, Bruce Sudano, and Darro
One of the best compliments we can receive is hearing that a client liked our work so much, they decided to team up with HIP Video Promo again! This week we're delighted to be continuing cherished partnerships with several returning beloved clients, as well as some new faces. The latest HIP Picks – Weekly Client Roundup is here; take a look at the videos, and learn more about the clips by reading below.
"Cooler" Music Video: AJ Smith (Pop)
"Cooler" is the latest single from New York pop-rock singer-songwriter AJ Smith. The clip for "Cooler" (directed by Whitney Wolanin) gives two versions of AJ: the butter-smooth rocker and the awkward, nerdy sweetheart. Is it a scene from the 1950s or present day? Adding a heartwarming touch is AJ's date in the video: she's played by his real-life fiancée.
"How Do You Want 'Em Made" Music Video: Dennis J. Leise (Country / blues)
Coming from the outskirts of Chicago, Dennis J. Leise is a farmer – and a renowned country, folk, and rockabilly musician. "How Do You Want 'Em Made" is all about breakfast,  and it's the latest in a series of sharp singles to be included on The World That You Grew Up In Is No More. Rob Fitzgerald's video features Chicago's acclaimed Galaxie Girls Dance Troupe, and embraces the song's nostalgic tone.
"I Wanna Get F'D Up" Music Video: Star 2 feat. Luh Kel (Hip-hop)
San Diego-based artist Star 2 specializes in rich, emotionally resonant narratives. His new single "I Wanna Get F'D Up" lays out the dynamics of a relationship in crisis, and as a bonus, it features platinum-certified rapper Luh Kel. In the dreamlike clip (directed by Hector Toro), the two address the camera together, as Star 2's feelings of loss are literalized on screen.
"Tick Tock" Music Video: James Worthy & Big Gipp (Hip-hop)
James Worthy's prior single "In The Dark" has now been streamed over two million times. His new release "Tick Tock" features a true rap legend: Big Gipp of Atlanta rap crew "Goodie Mob." Set in the California hills, the "Tick Tock" video (directed by Andrea Ward) could be a visual metaphor for Worthy's music.
"Do Be Do (Daytrippin')" Music Video: Bruce Sudano (Folk)
Bruce Sudano has had an accomplished career, from fronting bands like Brooklyn Dreams and Alive N' Kickin, to writing songs for Dolly Parton, Michael Jackson, and his late wife, Donna Summer; and he now runs an indie record label, Purple Heart Recording Company. "Do Be Do (Daytrippin')" is accompanied by a vibrant, chilled-out lyric video that blends animation and photography, cut-and-pasted together.
"Used Me (All Along)" Music Video: Darro (Rock)
Darro's got the punchy lyrics, perfectly timed hooks, and the look of a pop-punk star – and a musician that can truly connect with his audience. Inspired by horror classics like The Haunting of Hill House and The Shining, the "Used Me (All Along)" video (directed by Mike Monto) grabs you by candlelight, setting a spooky mood.