HIP Picks: New Videos from Kiani, Gbeke, and more | 11/7/2022
November 14, 2022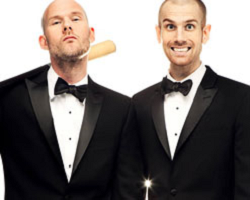 Flashback Friday: Dada Life
November 18, 2022

New This Week: "By Your Side" music video from Tim Snider, plus new videos from Jekalyn Carr and Mariea Antoinette
From the harp to the violin, from connections with God to connections with those around us – we are delighted this week to share a trio of new music videos sure to move you. The latest HIP Picks – Weekly Client Roundup is here; take a look at the videos, and learn more about the clips by reading below.
"By Your Side" Music Video: Tim Snider (pop/folk)
Tim Snider, leader of Wolfgang Timber, brings passion and dexterity to folk rock. Known for his violin playing, he's also a talented guitarist and vocalist as well as an expert at the loop pedal! The "By Your Side" video (directed by Tiana Hodges) shows the whole group having a delightful time playing together, celebrating love all around.
"Great Christmas" Music Video: Jekalyn Carr (holiday/R&B)
Jekalyn Carr's passionate, imaginative gospel songs have topped the charts eight times, received multipled Stellar Awards and a Grammy nomination, and touched hearts everywhere. Released as the holiday cheer picks up, her new video for "Great Christmas" (directed by Jekalyn Carr) shows that no matter how you're celebrating, you aren't any less loved by God.
"So Amazing" Music Video: Mariea Anotinette (instrumental/easy listening)
After earning her bachelor's and master's degrees in music and harp performance, Mariea Antoinette has made waves on the Billboard charts, performed for Barack Obama, been featured with chart-topping pop and soul groups, prestigious symphonies, and festivals worldwide, and received considerations for Grammy nominations in multiple categories. "So Amazing" is her take on Luther Vandross's R&B classic, and shows her innovative signature sound, and the video (directed by Eric J Chambers) shows her beaming with joy in a splendid variety of outfits.