Presenting: HIP's Year in Review for 2012
December 2, 2022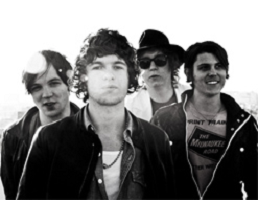 Flashback Friday: The Kooks
December 9, 2022

New This Week: "Fruit Basket" music video from Kelsie Kimberlin, plus new videos from Shaheed and DJ Supreme, Krish Valentine, Jimmy D. Scott, The Tribe Band, and Pedrito Martinez
After the Thanksgiving holiday, we are all thrilled to be back to the grind working with exciting new musicians to promote killer new videos. This week, we have seven new music videos from six artists to share. The latest HIP Picks – Weekly Client Roundup is here; take a look at the videos, and learn more about the clips by reading below.
"Fruit Basket" Music Video: Kelsie Kimberlin (pop)
Ambitious and talented 22-year-old Kelsie Kimberlin has shared over a dozen releases, starting with her debut "Lobotomy" in 2020. In her latest single "Fruit Basket", featuring vocals from Pedro Vengoechea, her love for Latin music shines. The video (directed by Cristian Florez) shows the beauty of Cartagena, Colombia.
"Skates and Crates" Music Video: Shaheed and DJ Supreme (hip-hop)
Alabama's own Shaheed and DJ Supreme see a skate park in every city, combining deft rhymes from Shaheed and engrossing production from DJ Supreme on "Skates and Crates." In the video for "Skates and Crates" (directed by Richard Giles), they spin and rap in front of a wall of skateboard decks.
"Life As A Farmer" Music Video: Shaheed and DJ Supreme (hip-hop)
Coming from Birmingham, Alabama, Shaheed and DJ Supreme love their city, and for decades now their city has loved them back. The "Life as a Farmer" video (directed by Richard Giles) is an ode to community-supported agriculture, showing how rewarding it can be.
"All Yours" Music Video: Krish Valentine (pop)
With talent that belies his years, Krish Valentine is off to a strong start at only 15 years old. "All Yours" is an upbeat electronic pop song that suits his smooth vocal riffs and perfectly captures "puppy love." The video (directed by Maria Whatley and Lenny Vittili) shows that Krish Valentine's dance moves are just as smooth as his vocals.
"Enough Is Enough" Music Video: Jimmy D. Scott (blues)
Jimmy D. Scott mixes Southern roots with Detroit-based Motown sound, and his career highlights have included opening for Jackson 5 in the '70s to playing on ESPN's national stage for Monday Night Football in 2010. "Enough is Enough" is a timely and vitally important message about gun violence in America, paired with a video (directed by R. Drew Fezzey) that drives the lessons home.
"This Christmas" Music Video: The Tribe Band (holiday)
The Tribe Band (which includes the defining artists: Kenny Loggins, Melissa Manchester, Lamont Dozier Jr, Richard Marx, Michael McDonald) are sharing their version of Donny Hathaway's "This Christmas", produced/arranged by Ken Stacey. The track and video (directed by Lauri Reimer) are done for a good cause: all proceeds will go to the Donny Hathaway Legacy Project, a nonprofit dedicated to providing mental health resources to those who desperately need them
"Avenida Malecón" Music Video: Pedrito Martinez (pop)
Pedrito Martinez has recorded with Bruce Springsteen, played percussion for Camila Cabello, and produced an album with Quincy Jones. He brings Latin influences to a diverse palette in "Avenida Malecón", with international artist collective MOJA. The "Avenida Malecón" video takes viewers to many hotspots in Martinez's home city, Havana, Cuba.