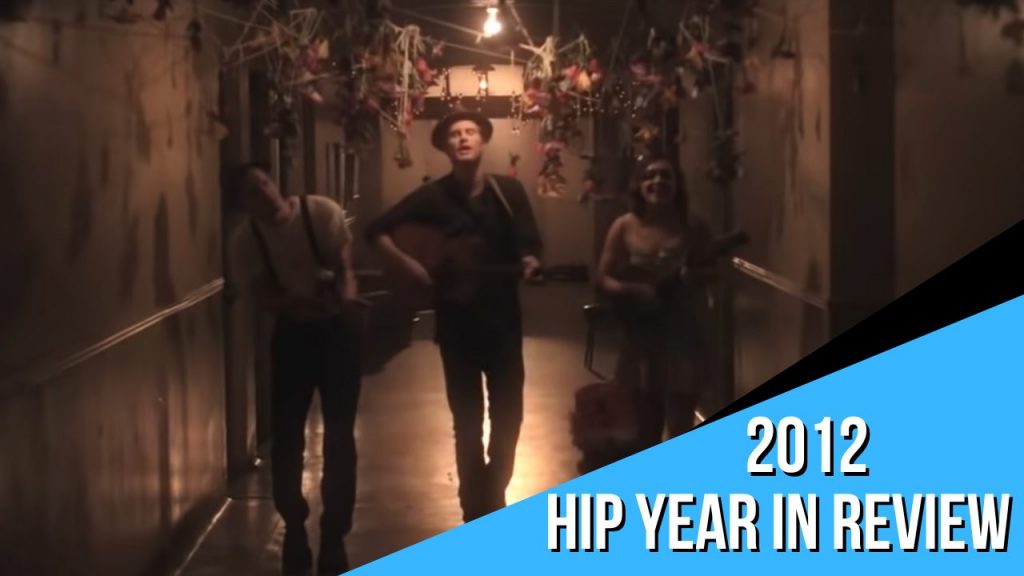 "Days go by, and still I think of you." This catchy lyric from the 2002 dance/electronic single "Days Go By" by Dirty Vegas encapsulates how we feel about several of the extraordinary 2012 artists' music videos as of 2022. 
It was a decade ago when Adele became the first female artist to have three singles in the top 10 on the Billboard Hot 100 chart. Also, Encyclopedia Britannica fully suspended its print edition after 244 years. In that same year, HIP's cherished client Bon Iver won a Grammy award for Best New Artist. 
Despite all the days and years that have gone by, here are the 2012 music videos we are still thinking of 10 years later: 
The Lumineers – "Ho Hey" – 291,156,661 views – This HIP Year in Review immediately starts with a band, song, and video that need no introduction. This iconic breakthrough hit became an overnight success for The Lumineers, but they had been making music for many years before achieving mainstream acclaim. As most already know, "Ho Hey" is an American folk rock anthem that took a rough patch in singer-songwriter Wesley Schultz's life and turned it into an uplifting, evergreen party-favorite singalong. This description was unreservedly embraced in the accompanying music video, which was the group's first ever. It required drummer Jeremiah Fraites to leave the drum set behind in favor of stomping around with a tambourine in his hand, but what a difference that visual release made. It has a hefty, continuously-growing YouTube view count to show for it, and we are eternally proud and gratified to have played a part in the trio's creative journey. These details and more are elaborated upon in our HIP Spotlight, which we highly encourage fans to check out. Relive "Ho Hey" in all its 2012 glory below. 
Doomtree – "Bangarang" – 1,009,014 views – Who can resist a good karaoke night? In the music video for "Bangarang," Doomtree's members gather around on the couch in a living room as Har Mar Superstar gives his best lip-sync karaoke performance into the TV remote of their new song displayed on the screen before him. The bandmates are seen in the background as well as surrounding the rolling lyric text, jamming out with their song's hip-hop/rap party vibes. Recognizing and stating how lots of rappers' music sound the same, they pride themselves in making their beats and raps stand out among the rest since their group was founded and started making songs together in 2001. By the end of the video, everyone in the room is singing and dancing to "Bangarang" with Har Mar. Audiences will likely do the same as soon as they have heard what we are talking about.
Dani Deahl – "Pocket Porn" – 72,977 views – The track for Dani Deahl's "Pocket Porn" is surely able to bring a club to life, and that is literally what the visual shows her fierce EDM sound doing. Deahl is being chased by unidentified men in black, and when she enters a lifeless night scene trying to lose them, she takes to the DJ booth to reanimate the bodies on the floor. Once her headphones are on, the agents are out of sight and mind as she, too, lets the music take her to a wonderful place away from the hunt. However, she is not overly disconnected from the pursuit and the room as she fist pumps along to the beats with the flash mob that breaks out. This eventually leads to the dancers surrounding her, ultimately guarding and hiding her from the suited men at the end. 
Alex Cuba – "Are You?" – 59,729 views – It's not easy finding the right person for you who inhabits your mind as your ideal match put on paper, but it is magical once you finally get to know them. Whether or not you have met them or not, that person is out there for each of us. That is the story being conveyed through "Are You." Alex Cuba spends a good deal of the visual sketching that dream girl, singing about whether she is the one or just a mirage. It turns out she's on the other side of the page, drawing him as her perfect person too. This was the first of five Alex Cuba music videos HIP Video Promo promoted through 2017. "Are You" won him a Grammy in 2013; in 2022, Alex Cuba won the Grammy for Best Latin Pop Album with Mendó. 
The Polyphonic Spree – "Silver Bells" – 1,783 views – With there being numerous renditions of the Christmas classic "Silver Bells," odds are The Polyphonic Spree's version is unlike the rest. The song's timeless lyrics were left untouched, but they transformed the instrumental with their symphonic rock flair, complete with strings, winds, and horns behind Tim DeLaughter's choir-like vocals. He also changed the notes and their durations, allowing his inflection to make it more upbeat and bright than normally expected from the peaceful original. Busy elves, candy canes, reindeer, presents, and lit-up Christmas trees are present in every angle of the video shot in The Polyphonic Spree's equivalent to Santa's workshop. Fresh off the conveyor belt is their album Holidaydream: Sounds of the Holidays, Vol. One to spread the joy of the season to all who are gifted their music. It is hard to believe this musical arrangement flies under people's radar despite its uniqueness during the most festive time of the year. 
Trapt – "Bring It" – 1,551,001 views – Let Trapt's electrifying hard rock sound take over, with their heavy, boisterous guitars and dynamic, forceful drums. Chris Brown's gritty tone dominates "Bring It," and the song's message? As he put it back in 2012, it is "an F U to all those who say 'you can't,' to anyone who has ever doubted you." Visually, the boxing imagery aligns well with the theme of standing your ground in the face of testy individuals. Championing Trapt since 2007 through the "Bring It" and "Love Hate Relationship" double-video campaign, we could not have been happier seeing the band's growth and are glad to continue to watch them succeed today. Trapt is on tour through January 2023, so if you were wowed by their "Bring It" music video, start looking for live shows near you. 
Good Old War – "Amazing Eyes" – 390,047 views – HIP Year in Review 2010 got us reminiscing about Good Old War, yet here we are again in 2012. "Amazing Eyes" is a hopelessly romantic song about a guy in love with a girl who seems to be in love with him one minute but not in the next. This is represented in the lyrics about her two eyes telling two different sides to her: one suspicious and the other wanting love. Keith Goodwin ensures her and the listeners during the song that he is ok with both of them being a little broken, and no matter what happens, he never means to bring harm. The girl is played by Mad Men's Peyton List, and Good Old War remains physically present while actually detached from the couple's turn of events in the music video. 
Xiu Xiu – "Honey-Suckle" – 19,388 views – Xiu Xiu's songwriting for "Honey-Suckle" is so raw and real that it is somewhat haunting and introspective of life's despair. The opening clips are disturbing, to say the least, with a fish struggling to stay alive out of water, eccentrically squirming feet, and the video's leading lady getting a closeup shot removing her contact from her eyeball. The video does not change much from there. Viewers follow a few of the repeated, ordinary tasks of the protagonist's daily life, but in between and closer to the end of the video, the darker aspects of her life and these routines are set forth further. Even Xiu Xiu's vocals portray somber and discontentment from her loneliness. In an abstract-style video communicating these heavy topics, it is effective nonetheless. 
The Fixx – "Anyone Else" – 75,010 views – Dating back to the days when MTV was in its prime, is the England-founded rock band The Fixx. The group has had multiple Billboard Hot 100 singles, with three No. 1 hits and five others in the Top 5. By the time The Fixx came to HIP in 2012 with the "Anyone Else" music video, they already had over three decades of rock and roll experience. This project thrived on political controversy. There are two actors from both party wings, one with a red tie and one with a blue tie, and a bunch of defiant young people getting freshly involved in the democracy. With that, the single also includes a wholesome section indicating that we all need to be unapologetically ourselves, thus explaining the title of not being anyone else and fully embracing the people we are. "Anyone Else" was the first single of The Fixx's Beautiful Friction album, but they have had many more stellar releases through 2022, including the brand new Every Five Seconds album from this June. 
Toadies – "Summer of the Strange" – 75,707 views – You can't have a song titled "Summer of the Strange" and not have a strange music video to complement it, although lead singer Vaden Todd Lewis told Loudwire in 2012 after the release of this single that he has never been a huge fan of music videos. Luckily, they had a blast shooting, and we have this visual to illustrate the Toadies' lyrics. The first sight people see when beginning the "Summer of the Strange" music video is a naked woman casually lying on the wooden floor in the kitchen. Moments later, a goblin-faced monster is chainsawing the table in half while Lewis and drummer Mark Reznicek shoot the mysterious green drinks hiding the milk in the fridge, which also ends up all over the place in the room. The weirdness continues as the dinner table is set with chicken, salad, bread, and wine, and the characters gathered around for the meal are a bit unusual too. Bassist Doni Blair taunts guitarist Clark Vogeler, and the final straw is broken as Vogeler leaps into the feast. There are way more scenes where those came from, so don't miss out if you have not experienced Toadies' "Summer of the Strange" yet. 
Cadence Weapon – "Conditioning" – 53,593 views – Rappers entering the industry can find themselves playing the part of the musician they think the critics, reviewers, and majority audiences would like to see and hear. Cadence Weapon fell into this trap for some of his prior productions to "Conditioning" and its respective album, Hope In Dirt City, but that was no longer the case here. He matured and found himself through his music, putting the most authentic version of Cadence Weapon out there. All it took was one touch of the electronic drum pad for the incredible hip-hop beat in "Conditioning" to take form. He spits straight fire in his crisp and clear raps about how he has been conditioned to accept certain aspects of his life and status. It isn't about giving up, but it is about making the most of the deck you are given rather than throwing a pity party for yourself about the less-than-perfect circumstances in front of you. 
Red Wanting Blue – "Audition" – 164,601 views – Going out of 2012 with a bang is the music video for Red Wanting Blue "Audition." In under 30 seconds, the brilliantly-crafted songwriting for "Audition" captivates listeners with its reference-loaded storytelling and Midwestern rock faculty. It is a live performance video, and the stage has an intimate appeal at the Newport Music Hall in the band's hometown in Columbus, Ohio. Scott Terry is still smitten in his delivery regarding the one that got away, and all the heartfelt emotion bottled up inside is poured out for fans' delight. Red Wanting Blue is still sharing new music with the world at large. After "Audition," don't forget to listen to their latest single from summer 2022, "Hey, '84." 
Written by HIP Marketing Coordinator Julia Block.