HIP Picks: New Videos from Joe West, Slick Naim, and more | 5/26/2023
June 7, 2023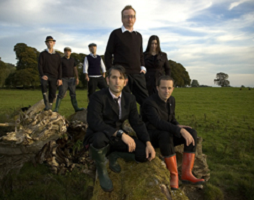 Flashback Friday: Flogging Molly
June 9, 2023

New This Week: "Swaggy" music video from Donae'O ft. O.G Relli, and "TUB OF LOVE", "NOW REPEATING", and "FIVE LIGHTS" music videos from Ron Brunk
It's always busy at HIP HQ and this week we've got four killer clips to share! The latest HIP Picks – Weekly Client Roundup is here; take a look at the videos, and learn more about the clips by reading below.
"Swaggy" Music Video: Donae'O ft. O.G Relli (rap/international)
UK funky house pioneer Donae'o and fellow UK hip-hop rapper-producer O.G Relli both broke onto the scene in the early 2000s. The two have teamed up for an epic collab celebrating their heritage and passion. "Swaggy" is a club-ready Afro-Caribbean bop, sure to connect with audiences from Lagos to London and Kingston to Queens.
"TUB OF LOVE" Music Video: Ron Brunk (singer-songwriter)
With over 20 albums under his belt, prolific singer-songwriter Ron Brunk has stories to tell. He's now sharing the playful "TUB OF LOVE", reminiscent of Randy Newman. The "TUB OF LOVE" video (directed by Ron Brunk) will uplift even the darkest of hearts.
"NOW REPEATING" Music Video: Ron Brunk (singer-songwriter)
Raised between opposite poles of West Virginia, Ron Brunk grew up on a changing diet of coal-miner's tales, Yankee folk, rock n roll, and poetry. His songs tell common stories that we can all relate to, through sharing vignettes of his own life. Ron Brunk is now sharing the contemplative "NOW REPEATING", a sobering reflection on the vicious cycles of greed and violence represented by the military-industrial complex.
"FIVE LIGHTS" Music Video: Ron Brunk (singer-songwriter)
There's always more to discover down the Ron Brunk rabbit hole, whether folk, rock, electronic, or country. "FIVE LIGHTS" is an electro-punk groove that riffs on a theme from Ray Bradbury's Fahrenheit 451. The "FIVE LIGHTS" video splices together war footage and high-tech dystopian imaginings.