HIP Picks: New Videos from SevvTheArtist, Jim Waneka, and Black Dawn | 8/26/2021
September 3, 2021

HIP Picks: New Videos from LKeys, Nick Hawk, and more | 9/9/2021
September 17, 2021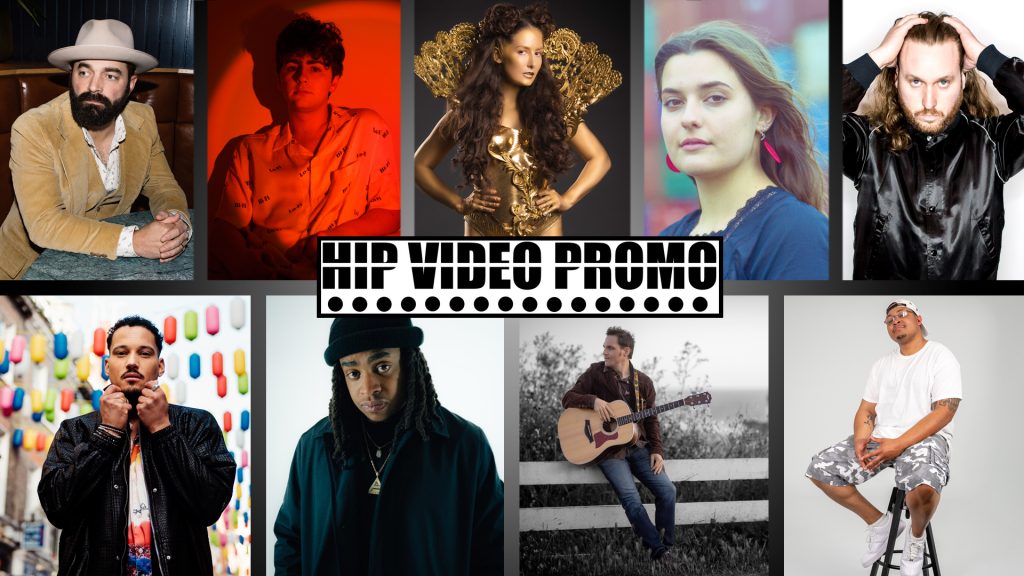 New This Week: "Family" music video from Drew Holcomb & the Neighbors, plus new music videos from Chris Mardini, Harper Starling, Jarv Dee x Bad Colours, Lila Blue, Pinder, Joses, Mr.Reaper, and Ben E. Davis
From folk to hip-hop to pop to rock, we've got no shortage of variety in this new batch of music videos. The latest HIP Picks – Weekly Client Roundup is here; take a look at the videos, and learn more about the clips by reading below.
"Family" Music Video: Drew Holcomb & the Neighbors (Folk / Americana)
When Drew Holcomb sings about "Family" on his 2019 full-length Dragons, he's also talking about his talented band the Neighbors. In the "Family" video (directed by Shelby Goldsmith), he dances first by himself, then with his wife Ellie Holcomb, and finally his three young children. But it also features appearances by his larger musical clan: roots artists Natalie Hemby and Lori McKenna, both of whom contributed songwriting to Dragons, CCM legend Amy Grant, country cornerstone Vince Gill, Judah & The Lion, Darlingside, Mat Kearney, The War And Treaty, Ben Rector, NEEDTOBREATHE, Penny And Sparrow, The Secret Sisters, and many more.
"I'll Try" Music Video: Chris Mardini (Rock)
19 year old alternative rock singer-songwriter Chris Mardini has been making waves since he was a child: covering The Beatles at legendary venues like The Bitter End to collaborating with Grammy-winning creatives like producer Marc Swersky. "I'll Try" is the opening track on his album, and its video (directed by Michael Perlmutter) takes on a grunge-influenced graffiti aesthetic.
"No More What If" Music Video: Harper Starling (Pop)
Harper Starling is a proud Wisconsinite, but wanting to bring her music to a mass audience, she moved to Los Angeles. She's scored several Billboard Dance hits, including "Euphoria", the chart-topping collaboration with The Perry Twins. Her new single "No More What If" was written by Harper Starling, Cindy Valentine, and Niko The Kid and produced by Cindy Valentine (Bebe Rexha, Britney Spears, Alisha) and Niko The Kid (Outcast, Ariana Grande, A1Young boy), and recorded at Capitol Recording Studios and East West Recording Studios in Los Angeles. The "No More What If" video (Directed by Devin Dilmore) is moving, heartfelt, and honest – and delightfully humorous, too.
"Clouds" feat. Shabazz Palaces Music Video: Jarv Dee x Bad Colours (Hip-hop)
Jarv Dee stands out through his constant experimentation in house music, and his upcoming EP Blakhouse with Bad Colours explores the experimental/alternative side of his artistry. The world is taking notice: several of his tracks have hit over a million streams on Spotify. "Clouds", which features legendary alternative hip-hop artist Shabazz Palaces, is paired with a video (directed by Tim Slew) full of trippy visuals and snappy editing.
"Simple Song" Music Video: Lila Blue (Indie / folk)
Lila Blue wrote and recorded her four-song EP Not Yet during the toughest days of the pandemic, on her bathroom floor. "Simple Song" is a stripped-down love song featuring beautiful harmonies from friends Damon Daunno and Gabriel Ebert. The "Simple Song" video (directed by Samantha Soule) is stark and beautiful, as a pair of dancers – Lauren Yalango-Grant and Christopher Grant – echo the song's sentiments in their movements.
"Same Mistake" Music Video: Pinder (Pop / rock)
Michael Pinder, now known musically as PINDER, is making waves not only as a musician but also as a poet. "Same Mistake" is an intense and rich-sounding song, paired with an equally intense – and stunning – video (directed by Scott Reams).
"Don't Turn Off The Lights" Music Video: Joses feat. Kathy Brown & TAZ (Funk / soul / dance)
DJ Joses Martin
utilized streaming platforms like Twitch to hold global dance parties that brought people together during the pandemic; he's since created SWEAT, a monthly Nu-Disco party collective of international artists to serve as a collaborative space. His EP
Watch Me 
is full of chart-topping tracks that highlight the expanding indie dance and house genre, something he followed on
"Don't Turn Off The Lights"
, an explosive collaboration with Kathy Brown & TAZ. The "Don't Turn Off The Lights" video (directed by Jordan "Dr.Cool" Minkoff) is a whimsical, dreamlike animation reminiscent of the golden age of disco.
"Peanut Butter" Music Video: Joses (Funk / soul)
With a style that's nostalgic and playful, Joses can transport listeners to a different time period through his music. "Peanut Butter" is a celebration of everyone's favorite sandwich spread, and the video (directed by Morgan Gies) is quirky and totally ridiculous.
"Thru The Dark" Music Video: Mr.Reaper (Hip-hop / rap)
In 2019, Mr.Reaper found his way back to the rap and hip-hop scene after a long hiatus. Light vs. Dark is his latest release, and "Thru The Dark" symbolizes his message of balancing both light and dark. The "Thru The Dark" video (directed by Steve Broy) is dynamically shot in locations from dim alleyways to fluorescent tunnels to an extravagant performance theater  – together emphasizing the internal battle of struggle and success.
"Lonely Without You" Music Video: Ben E. Davis (Pop / dance)
As early as his college years, Ben E. Davis was leaving an impression on pop icons like Katy Perry, Train, and Ryan Tedder. His music was featured in the film Step Up and the Nintendo Switch game "The Seven Chambers". His latest track is "Lonely Without You" (created with the help of with the help of producer R0 Bradley and Grammy-nominated mixing engineer Ariel Chobaz) and it seamlessly blends heartfelt R&B lyrics with a party-starting EDM mix. The "Lonely Without You" video (directed by Ben E. Davis, videography by MeVisuals) travels through the lush landscapes of Portugal and the concrete jungle of New York City.