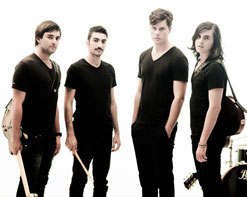 Artist:
MONKS OF MELLONWAH
Label:
GATCOMBE MUSIC
Video:
"NEVERENDING SPIRIT"
Director:
Bruno Kataoka
Add Date:
MAY 24, 2012
Hello programming friends, it's Andy Gesner and the HIP Video Promo crew bringing you another video top notch video from an Australian artist poised to break big here in the States. After bringing you videos from artists like Karnivool, Brooke Fraser, Kate Miller-Heidke, Jet, and so many more it should be apparent to everyone by now that there is some seriously impressive talent coming out of the Lucky Country. Next up to carry the torch is a Sydney group called Monks of Mellonwah. This quartet of young men draws on elements of classic rock, blues and vibe of artists such as Hendrix, Zeppelin, and Pink Floyd, but also splashing in a touch of contemporary bands like Muse, Red Hot Chili Peppers, and even a hint of Incubus. They're a band that doesn't need walls of distortion to sound big, but when they do kick on their Tubescreamers, watch out, because it's sure to leave your ears ringing with delight. They've received airplay on the popular music program, Rage, on ABC in Australia, as well as opening for indie legends You Am I and Thirsty Merc, and we're psyched to see them coming our way!
Perhaps it's just the geography, or maybe that their sound has been honed by some of the best of the west (coast), but after making significant waves in the homeland the band has gotten their beachhead here in the States in the city of Los Angeles. They've quickly established themselves with their first EP, Stars Are Out, and then have been working hard to promote their upcoming release, Neurogenesis, which will be released on May 24th. In their short time here they've managed to be named Best Indie Rock Band at the Artists In Music Awards, and have been nominated for Best International Act at the LA Music Awards. The new single for "Neverending Spirit" encapsulates all of the elements that make this band such a hot commodity.
An ode to a lost loved one, the song begins with arpeggiated guitar lines that immediately show the fluidity of guitarist Joe de la Hoyde. Combined with brother John de la Hoyde on bass and Josh Baissari on drums, these three form a formidable trio of soaring sounds that are perfect showcases of their skills. Over all of this, frontman Will Maher sings from the heart about never forgetting someone and that no matter how far away they may be, that their spirit will live on forever. The video for "Neverending Spirit" prominently features home movies that bring them back to simpler times when their loved ones were there for every birthday party, karate tournament, Christmas morning, and more. In front of the grainy old home movies of themselves as young boys, the band performs with maximum energy and spirit. Even though they are largely silhouetted and in the shadows, we can still get good glimpses of the band and see how these children have now grown into talented men that their loved ones lost would be proud of. It's a beautiful ode to those who are no longer with us, and we're certain that it will connect with your viewers like it has for us!
We're very excited to be working with Monks of Mellonwah to bring you this top notch video! We're here to hook you up with everything you may need to get this video into your programming! We've got copies of Neurogenesis, and are happy to get you anything you may need! If you need more info you can contact Andy Gesner and the HIP Video Promo crew at (732)613-1779 or email us at info@HIPVideoPromo.com . You can also visit www.Facebook.com/MonksOfMellonwah orTwitter.com/MonksMellonwah for more info on Monks of Mellonwah.