After 22 solid years of promoting music videos, many of our videos have skyrocketed to the top. Today, we present you with one of our most-watched videos on our YouTube channel. The tale of the "twisted sisters" CocoRosie starts simple and sweet: the pair started the band while living in Paris (Sierra studied opera and Bianca worked as a model), created the band name based on their mother's childhood nickname for them, and situated themselves next to Devendra Banhart and harpist Joanna Newsom in the new wave category of "freak folk." The American duo formed in 2003 to blend folk, electronic, lo-fi, and globe-trotting musical elements to push their music in unconventional directions. They're unafraid of their unique and expressive voices, unafraid to craft an outrageous and striking public image, and unafraid to continually challenge their audience.
Their costumes and aesthetic make up a big part of their identity. The duo often plays up gender-ambiguity and experiment with outfits to get their points across. It's that versatility that has, in part, made CocoRosie such a formidable draw on the festival circuit, both in the U.S and in Europe.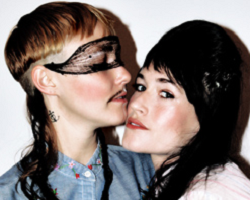 "Rainbowarriors" debuted in May of 2007 and amassed over 194k views since. Bianca Casady appears in military uniform with a thin mustache attached firmly to her face counterbalanced by the blush on her cheeks. Yet every masculine gesture conceals a feminine grace, and by the second verse, there's a frailty to her delivery that beckons the viewer closer.
Most recently, CocoRosie released Put The Shine On in 2020. We can't wait to see what they do next!
Written by HIP Marketing Assistant Melissa Ng.