After 22 solid years of promoting music videos, many of our videos have skyrocketed to the top. Today, we present you with one of our most-watched videos on our YouTube channel. 
What do you get when you combine punk urgency and stoner jams sprinkled with a bit of party-hard metal euphoria? You get the loud and fast Red Fang from Portland, Oregon.
The quartet consisting of David Sullivan, Maurice Bryan Giles, Aaron Beam, and John Sherman debut in 2005 with sharp, heavy music fit for American head bang culture. With subtle complexities underneath their music, Red Fang gained renown for their inventive comedic music videos and on the live circuit as well. They tear apart the sonic landscape forcing something innovative into the realm of raucous rock. 
After releasing their self-titled album in 2009 with Sargent House, Red Fang transitioned to the independent label Relapse Records for the release of their 2011 full-length Murder the Mountains, which hit #25 on the US Top Heatseekers chart. Their continuous success landed them a performance on the Late Show with David Letterman.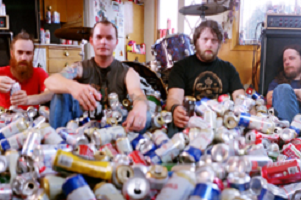 We are lucky to have worked on one of their most popular songs, "Prehistoric Dog." Beginning with PBR shotguns and Dark Age constants of men in chain-mail and robes accompanied by swords and scepters in a park, the music video has garnered over 101k views on our Youtube channel. The music never falters and of course, Red Fang is unaffected by the massive quantities of beer. The true purpose of the aluminum shells is for the band to prepare for battle and await a clash of empires. They attack, the battle ensues, but in the end Red Fang are the real heroes – champions of the desire to rock, and drink, evermore.
Written by HIP Administrative Assistant Melissa Ng.