After 22 solid years of promoting music videos, many of our videos have skyrocketed to the top. Today, we present you with one of our most-watched videos on our Youtube channel. This week, we're spotlighting one of our favorite videos from Hungarian synth-pop band The Moog: "When I See You" has over a quarter million views, with 228k views to date!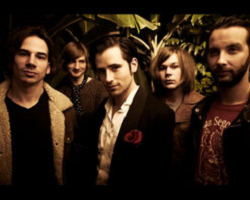 From Budapest, Hungary to a worldwide audience, The Moog are true citizens of the world. But they're also heroes of their home country, having topped the Hungarian video charts with "You Raised A Vampire." "When I See You" was a clear fan favorite at their concerts, and kicks off with an irresistible hook played by frontman Tonyo Szabo on (you guessed it!) his analog synth Moog Little Phatty. Cramped in close quarters, they rock the house down while an evil clown and grizzly bear battle it out in front of quite the interesting audience. Director Anthony Ernest Garth has helped the band take full advantage of Los Angeles's world-renowned Bob Baker Marionette Theater. It'll be hard NOT to have a blast watching this clip!
Written by HIP Director of  Marketing and Communications Molly Hudelson.