Here at HIP Video Promo, we've been working hard to promote music videos since the year 2000. It's important to us to help younger and independent artists get the recognition they deserve, and it's exciting to be on the ground floor with artists that become household names (and with over 4000 videos under our belts in 22 years, there are quite a few). Every Friday, we'll be sharing a "Flashback Friday" video, where we get to reflect on one of our favorite videos from a few years ago.
After playing in various other groups around Chicago, in 1999 Tim McIlrath joined Joe Principe (bass, formerly of 88 Fingers Louie), Dan Precision (a.k.a. "Mr. Precision"; guitar), and Toni Tintari (drums) in the new group Transistor Revolt. Two years later, in 2001, Brandon Barnes stepped in on drums and Rise Against was officially born. They achieved significant underground success from their first two albums (2001's The Unraveling and 2003's Revolutions Per Minute) on Fat Wreck Chords, so it was no surprise that for their 2004 follow-up, Siren Song of the Counter Culture, Rise Against had signed to a major label: Geffen Records.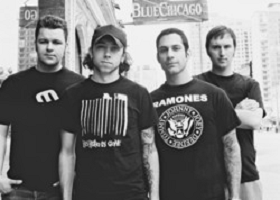 "Give It All", the first single from Siren Song of the Counter Culture, is Rise Against at their best: both frustrated and inspired, McIlrath sings about what it's like "being a punk-rocker in today's world." It's a short and fast hardcore punk song, released as their first song upon signing to Geffen and originally included on the Rock Against Bush, Vol. 1 compilation (an altered version was then included on Siren Song). Directed by veteran director James Cox, the "Give It All" video features the band performing inside a packed subway car on the Chicago "L"; meanwhile, some of these commuters head off into the night, set to vandalize and deface symbols of institutional power.
In the summer of 2006, we brought you another Rise Against video: this one was for "Swing Life Away" , and it served as a follow-up / companion piece to "Give It All." For those who know Rise Against for their characteristic melodic hardcore / punk sound, this song may have come as a surprise: it's an acoustic ballad, but perhaps it's the fact that it contrasts the rest of the band's catalog so much that makes it such a beloved track by fans. "Swing Life Away" was originally included on Fearless Records' 2003 Punk Goes Acoustic compilation, and with the addition of an instrumental bridge, it was later included on Siren Song of the Counter Culture. Reflective yet full of hope, "Swing Life Away" once again opens with shots of the Chicago L – only this time, it's during the day. McIlrath is intense and brooding as he drifts around town, and when someone tries to cross his path, instead of fighting, he steps away, pulls out his pen, and writes.
Rise Against have since released five more albums: The Sufferer & the Witness (2006), Appeal to Reason (2008), Endgame (2011), The Black Market (2014), and most recently, Wolves (2017), all five of which have debuted in the top ten of the Billboard 200. The band continues making social commentary on relevant issues; speaking on Wolves, McIlrath told The Shrine Auditorium that "In many ways, a Rise Against show is a safe space for our fans. But I realized that I don't only want to create safe spaces, I want to create dangerous spaces where misogyny can't exist, where xenophobia can't exist. I want to create spaces where those sentiments don't have any air, and they suffocate: where those ideas die. Wolves isn't about creating a safe space, it's about creating a space that's dangerous for injustice."
Visit the band's website to see what they're up to now!
---
We've been big fans of Rise Against since long before we worked together, and we can't wait to see what they do next! We can't wait to see what budding artist becomes the next break-out artist. Do you think your video has what it takes to be the next worldwide smash hit? Get in touch with Andy Gesner and the rest of the HIP Video Promo team by giving us a call at (732)-613-1779 or emailing us at info@HIPVideoPromo.com.