Here at HIP Video Promo, we've been working hard to promote music videos since the year 2000 and have over 4,000 videos under our belt. Due to our experience and expertise in the marketing world, we have promoted some of the best musical acts of our time. It's important to give these artists a platform, and we have done that but it's their talent that shoots them into instant stardom. Every Friday, we'll be sharing a "Flashback Friday" video, where we get to reflect on one of our favorite videos from a few years ago.
One of our classic acts and a household name is K'Naan, also known as Keinan Abdi Warsame. Originally from Somali, he moved to Canada in 1991 to escape his home country during civil unrest. He found comfort in music and hit his stride representing international hip-hop in its best light. He does not stay in the dark about real issues that third world countries face, and it doesn't take away from his music but gives it another angle. He has been claimed as an African success as his native musical stylings broke into the mainstream. As an outsider on the inside, his music was before his time but still received commercial success based on his raw talent and charisma. He combined music influences such as reggae, funk, pop, soul and hip-hop to create something different, authentic and timeless. He also samples live instrumentation to give his tracks a reborn life. His music is so genuine that it can't be labeled with a place or time but instead inspires a lasting feeling.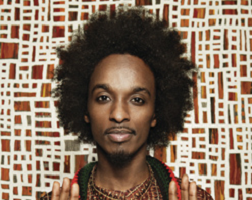 K'Naan gained attention fast as singer Youssou N'Dour acted like a mentor and asked to contribute to his 2001 album Building Bridges, which allowed him to gain a spot on a worldwide tour. K'Nann's debut album was released in 2006 entitled The Dusty Foot Philosopher. This included the hit songs, "STRUGGLIN'" and "Soobax" which launched him to obtain tour spots with Mos Def and Talib Kweli, as well as a performance at Live 8. His second album Troubadour was a commercial success including hits such as "ABC's," "Bang Bang," and "Take a Minute." With almost every song on the album being a hit, he was now visible to the public eye.
Back in 2008, our team promoted the "STRUGGLIN'" video, and history started to ensue. With a bigger platform, we could get the word out about this multifaceted artist. With a light flow and tone, he touched on real subjects that gave him a narrative of hope, acceptance and rising above the pain- making it effortlessly positive in a world that has turned a cold shoulder to compassion.
The video, which is directed by Charles Officer, opens up in an African village included with transitions of different shots capturing civilians celebrating life. Some women are smiling while children stare directly into the camera, showing a disconnect. K'naan is displayed looking into the sky, contemplating how he was born into a life laced with struggle and constant hustle. The backdrop is painted yellow then moves into a car as they once again find themselves as outsiders looking in. The visuals act like a brush that paints in between the lines of the lyrics as he sings, "the only break I ever got, was at recess." Then the representation of his childhood-self looks up into the sky calling out to God, but receiving no affirmation. The video then finally closes with a look into his personal life as he has to raise a child, hoping that his baby will not face the same hardships he has had to overcome. As K'Naan tries to find meaning within the madness, it is cut short as nothing is resolved and his questions remain unanswered.
His third album Country, God Or The Girl solidified his name as a powerhouse, breaking the barriers of the mainstream agency. It included tracks like "Is Anybody Out There?" with a feature from his supportive collaborator Nelly Furtado. It also included standout tracks such as, "Hurt Me Tomorrow" and "The Wall." K'Naan always has a message behind his music and it is accentuated by his statement, "If I don't have something to add to the conversation, I'm just not gonna talk."
K'naan, whose name means "traveler" flawlessly suits him as he has trekked across his journey in the music industry quite smoothly. K'Naan is not only an artist but an influencer. Due to his hard work he also gained a huge success with his single "Wavin' Flag" that was apart of the Coca-Cola campaign that became the anthem for the 2010 FIFA World Cup.
Check out "Wavin' Flag" here and watch his positivity come to life.
Throughout his long career, he has brought African styled music into the mainstream- breaking out on American charts in a time where it was highly unlikely as a struggling minority. Through the success of his first two albums, he gained a steady platform to tour the world, release a plethora of music and earned sponsorships to make him a dominant boundary breaker. He pays keen attention to his lyrics, message and visual content to give it a real Caribbean feel. He has a poetic storytelling ability that emulates positivity in the face of disaster. K'Naan hasn't put out an album since 2012, but all his projects have been highly respected- making it noticeably stylish without riding a trend.  His overall message is to celebrate life, despite its difficulties, and the party all started here at HIP VIDEO PROMO.
---
We've been big fans of K'Naan's inspiring, charismatic music from the start, and we sure hope he's got more to come soon! We can't wait to see what budding artist becomes the next break-out star. Do you think your video has what it takes to be the next worldwide smash hit? Get in touch with Andy Gesner and the rest of the HIP Video Promo team by giving us a call at (732)-613-1779 or emailing us at info@HIPVideoPromo.com.
---
Written by Morgan Bade, HIP Video Promo Summer 2018 Intern. Follow Morgan on Instagram.