HIP's YouTube Channel exceeds 14 million views!
July 19, 2022

HIP Picks: New Videos from Nya, WHOAA, and more | 7/15/2022
July 20, 2022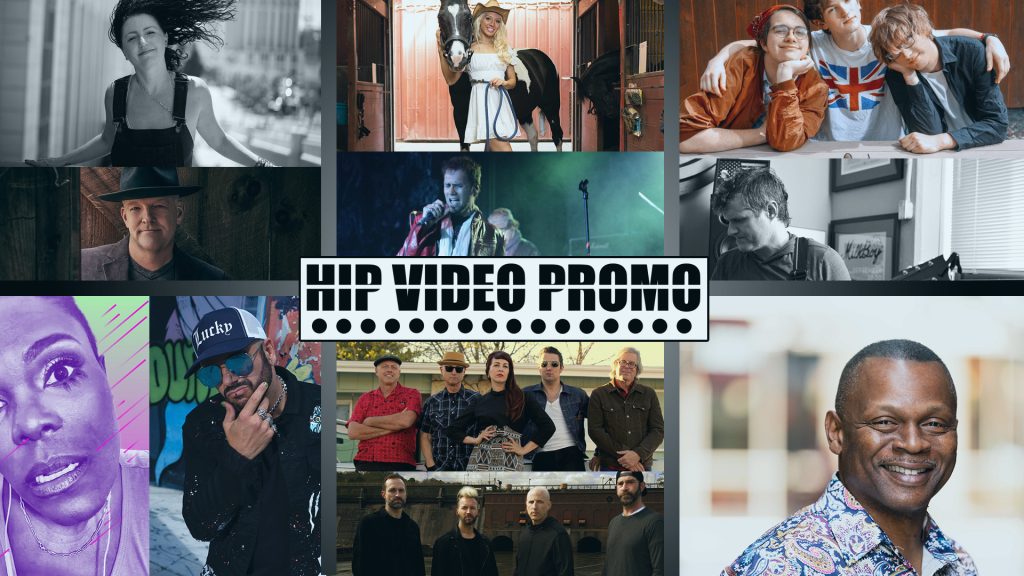 New This Week: "Good Lovin'" music video from Samantha Gibb, plus new videos from Albert Cummings, Pep Rally, The Roughhousers, Alicia G, Pistols At Dawn, Litvar, Blind Difference, Love Crushed Velvet, SALGORHYTHM, and Albert Artis
There's nothing like a greaThe latest HIP Picks – Weekly Client Roundup is here; take a look at the videos, and learn more about the clips by reading below.
"Good Lovin'" Music Video: Samantha Gibb (pop)
Pop singer-songwriter Samantha Gibb is carrying on family traditions, as a descendent of the famous Gibb Brothers, founders of the Bee Gees. "Good Lovin'" isn't her first single, but it's a rebirth of sorts – as Samantha Gibb has found her own unique voice. The winsome lyric video (directed by HIP and M.E.G. Productions) makes her "good lovin'" manifest on screen.
"Two Hands" Music Video: Albert Cummings (country/blues)
Albert Cummings has an incredible work ethic, with ten albums and countless hours writing and recording over the past decade. "Two Hands" emphasizes the importance of sticking to one's word and refusing to quit, no matter what. The video (directed by Nick Spanos) gives Cummings and his band the recognition they deserve.
"South Street" Music Video: Pep Rally (rock)
Tommy Joyner is the producer/engineer behind MilkBoy Cafe and Studio, a centerpiece of Philadelphia's music scene. "South Street" (lyric video directed by Steffi Sixt) is the latest offering from his band Pep Rally, and it celebrates the famous street where Joyner himself hung out when he'd first moved to the City of Brotherly Love.
"Chicken Fingers" Music Video: The Roughhousers (rockabilly)
Together as The Roughhousers, prolific and celebrated voice actress Grey DeLisle and rocker Eddie Clendening are reimagining children's music with each witty new track. The "Chicken Fingers" video (directed by Neuman Mannas) celebrates everyone's favorite dinner, as DeLisle sings into a rubber chicken "microphone" and Clendening rocks a chicken mask.
"Shake Down" Music Video: Alicia G (pop)
Alicia G calls upstate New York home, but she has the charming spirit of a true Southern belle. In "Shake Down", she shows off her love for country mixed with her NY roots and familiarity with pop and rap. The "Shake Down" video (directed by Ian Brennan) is pure eye candy as fans watch her ride and care for her horse.
"The Truth" Music Video: Pistols At Dawn (rock)
In their newest single, Atlanta hard-rock band Pistols At Dawn present "The Truth" as a rude fact. "The Truth" (video directed by Michael Mueller) comes from the upcoming album Ascension, recorded with Grammy-winning producer Sylvia Massy.
"No One Tastes Like You" Music Video: Litvar (rock)
Coming from Willimantic, CT, Litvar shares "No One Tastes Like You", a pop-punk expression of pure romantic urgency. "No One Tastes Like You" follow's the band's 2020 debut LP, The Greatest Movie Of All Time. The video sees them setting up to play in their hometown.
"Alive (Remix)" Music Video: Blind Difference (pop)
When she's singing, Blind Difference rides the beat with a combination of swagger and poise that's wholly hers, pouring herself into performances with total commitment. She's in command for the "Alive (Remix)" video (directed by Blind Difference), dominating every frame & turning the floor to a team of dancers.
"The Future" Music Video: Love Crushed Velvet (rock)
Coming from NYC – the epicenter of glitz, glamour, & grandeur – is Love Crushed Velvet, a moody disruption to the underground who have even been featured on the videogame Rockband 3. "The Future" is a ride of pure reckless fun, and the video (directed by Elis Ekdahl) is a hypnotic look into the band's rebellion and pure talent.
"He So Euro" Music Video: SALGORHYTHM (pop)
Detroit-born, Delrey Beach-based artist Salgorhythm is inspired by hip-hop, rock, pop, and disco to create music rooted in humor. "He So Euro" was co-produced by Marky Bass of the Bass Brothers. The "He So Euro" video (directed by Colton Visuals) pulls directly from is irreverently quirky personality and true stories.
"I Feel Your Love" Music Video: Albert Artis (gospel)
Albert Artis's story begins in the church, where he was pulled into songwriting by his former pastor, renowned entertainer Candi Staton. He aims to spread God's love through his music. "I Feel Your Love" (video directed by Marcus Williams and Brian Washington) compares God's love to the waves of the sea.