On July 18, 2022, Andy and the HIP team witnessed a momentous turning point: our YouTube channel surpassed 14 million views of our posted content.
This breakthrough has been a long time coming since the account was founded on January 3, 2007, and we take great pride in its progression and the remarkable visual offerings it boasts up through today.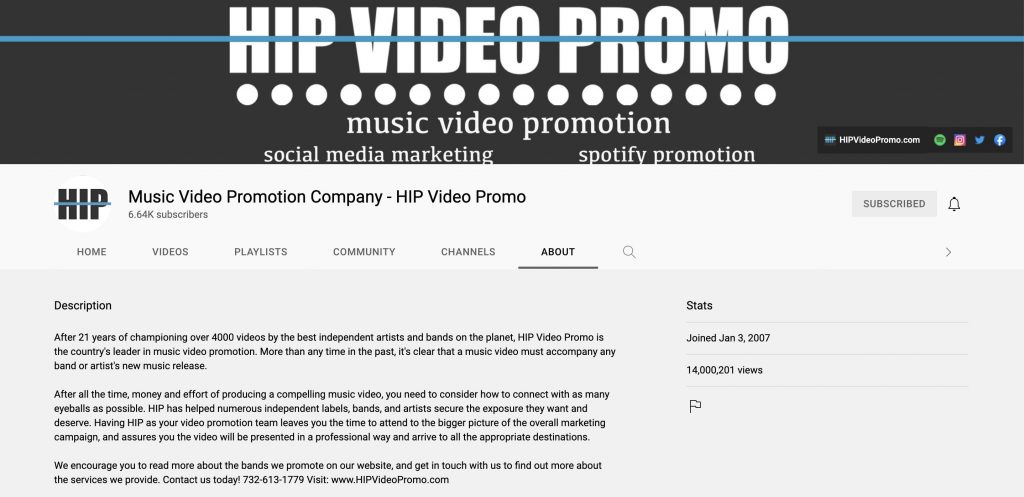 Take the Pinback "Fortress" music video, collecting over 1.5 million views since being released on our channel within the first year that we launched it. Likewise, Spoon's "The Underdog" video has nearly 2 million views at the time of this blog post. HIP's channel is quite the music video rabbit hole in the continuous scroll to its beginning days.
We also have countless HIP Spotlights, formerly called HIP Clips, showcasing and interviewing some of the top-notch talents HIP has championed that have made quite the distinguished names for themselves in the music industry limelight. From Ruby Ryan to The Lumineers, the artists share the details about unforgettable productions that positively impacted their careers.
More recently, the YouTube also contains almost a dozen episodes of the owner and president's passion project HIP to the Scene. Each podcast video gets the core of frequently asked questions by up-and-coming members of indie nation with the help of a special guest with a wealth of experience, knowledge, and wisdom to bestow. Check out the series here!
In honor of this milestone, be sure to stay tuned to HIP's YouTube channel because a contest is in the works to keep the celebration of our strides alive!
Written by HIP Marketing Coordinator Julia Block.