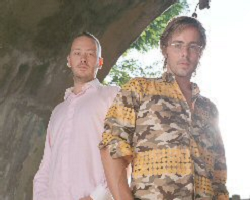 Flashback Friday: Basement Jaxx
August 11, 2023

Music Video Promotion and Marketing for the remainder of 2023
August 16, 2023

New This Week: "Take You Home" music video from SAYNT JAYSN ft. Jônelle, plus new music videos from Ghost Hounds and FIREROSE & Billy Ray Cyrus
Whether rising artists or established stars, each client that HIP works with receives the same attention to detail and personalized attention for their campaign. Today, we're thrilled to share three brand new muThe latest HIP Picks – Weekly Client Roundup is here; take a look at the videos, and learn more about the clips by reading below.
"Take You Home" Music Video: SAYNT JAYSN ft. Jônelle (pop/R&B)
SAYNT JAYSN has withstood the heat of Toronto's killer hip-hop scene for years. A collab with maestro-producer Dwight Miller, "Take You Home (ft. Jônelle)" comes from his upcoming album It's Okay To Be Happy Again. The song is a complex exploration of the power of love, and it's paired with a video directed by hip-hop's Hans Zimmer – Dwight Miller, himself.
"Last Train To Nowhere" Music Video: Ghost Hounds (southern rock)
Ghost Hounds represents post-industrial Pittsburgh with every note they play. Like many great rock bands before them, they know the full depth of the metaphor of the locomotive: "Last Train to Nowhere" (directed by Jay Arcansalin) channels the power of the train and the strange terror of the uncharted future, in a clip that's simultaneously an Old West adventure, a lethal fantasy of escape, and a tale of alienation in the big city.
"Plans" Music Video: FIREROSE & Billy Ray Cyrus (pop/country)
Even if she wasn't about to marry Billy Ray Cyrus, there'd still be plenty of interest in Australian-American singer FIREROSE, who has consummate poise and a voice as sweet as honey on pancakes. When FIREROSE & Billy Ray Cyrus sing together, it's a flirtatious delight. They've now teamed up for "Plans", originally by Grammy-winner Diane Warren, paired with a video directed by Nick Pres.