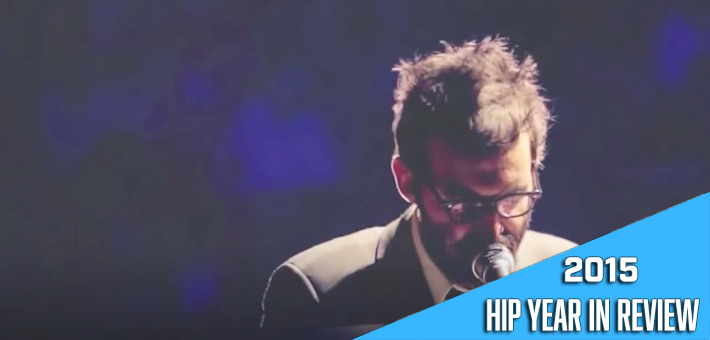 WOW! 2015 seems like decades ago! It was the year Blur made their triumphant return with their first record in twelve years called The Magic Whip. HIP was there in 2002 when their previous record Think Tank came out, and we had the great honor and privilege to promote both the "Crazy Beat" and "Out Of Time" music videos! 2015 was also the year that Hoverboards became the hot new thing, and after many years on late-night television, David Letterman said goodbye with his final episode of Late Show With David Letterman airing on May 20th, 2015. Ahh, the memories! 
Nicky Romero – "Let Me Feel" ft. When We Are Wild – 9,944,388 views – In 2015, Nicky Romero was at the top of his game. In the arresting clip for "Let Me Feel," a grieving father does all he can for his terminally ill daughter — and although he loses the match in a spectacularly painful fashion, he wins a much more important battle. 
Breathe Carolina ft. KARRA – "Platinum Hearts" – 478,296 views – Warming our "Platinum Hearts" with stunning melodies, smashing progressions, and guest vocalist KARRA's sublime voice, there's no telling how far this tune could actually go. 
Dimitri Vegas & Like Mike vs Ummet Ozcan – "The Hum" – 148,446,418 views – From the get-go, this song pushed boundaries. Live premiered at Tomorrowland during the resident duo's headline, record-breaking set of 2014 that has been viewed over 26 million times on YouTube – and counting.
Deep Blue Something – "All Make Believe Off" – 16,879 views – Off of their album Locust House, "All Make Believe Off" is a no-nonsense, straightforward track, which is everything we want it to be and more. 
Method Man – "The Purple Tape" – 4,164,102 views – When it's all said and done, the collaboration brings together Method Man, both Raekwons, and Inspectah Deck as they "glide and slide all over the studio with their crew banging along to the J57-produced record." – UPROXX 
Matt Pond – "Take Me With You" – 7,122 views – "Take Me With You" is a video of mesmerizing beauty and embracing the spirit of wanderlust that lives inside many of us. 
White Reaper – "Pills" – 123,660 views – Off their raucous debut album White Reaper Does It Again, "Pills" feels like a pure rock n' roll adrenaline rush straight to the chest.
Alex Cuba – "No Esperas Más" – 252,565 views – The Latin Grammy winner for Best New Artist of 2010 has crossed geographical and cultural boundaries to master a sound that blends Spanish and English melodies into a work of art.
Eels – "Can't Help Falling In Love" – 959,216 views – This gorgeous cover of the classic Elvis Presley song has warmed the hearts of fans and critics alike. 
Beach Slang – "Bad Art & Weirdo Ideas" – 6,856 views – The Philadelphia-based group evokes the undeniable spirit of punk music while vulnerability and the feeling of youth remain at its core. 
Armin van Buuren feat. Mr. Probz – "Another You" – 29,104,450 views – "Another You" instantly grabs the listener with the first strummed chords until Mr. Probz's irresistible vocal enters with its uniquely gravelly timbre. Armin worked the song's hooks and impeccably timed builds and drops to leave the listener no choice but to throw both hands firmly in the air.
Written by HIP Marketing Coordinator Julia Block.