After 22 solid years of promoting music videos, many of our videos have skyrocketed to the top. Today, we present you with one of our most-watched videos on our YouTube channel. This week we're shining a spotlight on Brooklyn indie/experimental-rock band Yeasayer, who we had the pleasure of working with on four separate videos over their career. Yeasayer are one of the few bands that everyone from arty sophisticates to raw punk kids (and everyone in between) could agree on – but don't let that make you think they can be put in a box; this group never stopped thinking outside of it.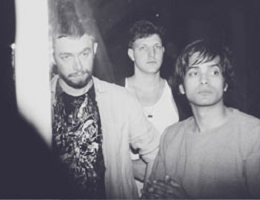 It's been a full decade since we first worked with Yeasayer to promote their video for "Ambling Alp", from their 2010 Secretly Canadian debut release Odd Blood.  Directed by Radical Friend, there's no way around saying it, but these visuals are bizarre: hooded boxers with mirrored faces slug it out, a hooded rider on horseback patrols a lunar landscape, and the band is birthed out of an alien-type goop whose faces eventually detach and stretch across the screen. Yes, it's weird – but something about it… just makes sense. To date, "Ambling Alp" has garnered more than 201k views. Check it out for yourself below!
In the summer of 2019 we worked with Yeasayer for the fourth – and ultimately, final – time to promote their "Ecstatic Baby" music video. "Ecstatic Baby" came from their fifth studio album Erotic Reruns, a nine-song release that received praise from the likes of Paste Magazine, Clash Magazine, and The Line of Best Fit. Just before the close of the year, on December 19, 2019, Yeasayer announced that the band had come to an end. While we were sad to see them go, what a great client to have had in the HIP Video Promo family over the years!
Written by HIP Director of Marketing and Communications, Molly Hudelson.