Here at HIP Video Promo, we're all about helping promising new indie artists make it big. There's nothing more satisfying than working hard to promote a music video, and seeing the success of that video help springboard a band's career to the next level. Hearing these stories – of how a hard-working act was able to make it big! – is a surefire source of inspiration and motivation for the next generation of new stars, so we're thrilled to present you with a new segment on the HIP blog: Motivation Monday, where we share motivational stories of our beloved current and alumni clients.
Every day, I come in to the office and over my desk, there's a signed poster from Minus The Bear. It's a colorful graphic from their fall 2005 tour with These Arms Are Snakes, Thunderbird Are Now! Criteria, The New Trust, and Headphones. On this tour, in between shows at New York City's Knitting Factory and Philadelphia's Theatre of Living Arts, the band spent the night at the "HIP Hotel"… HIP HQ is located in the home of founder and president Andy Gesner and has been host to many a traveling artist over the years!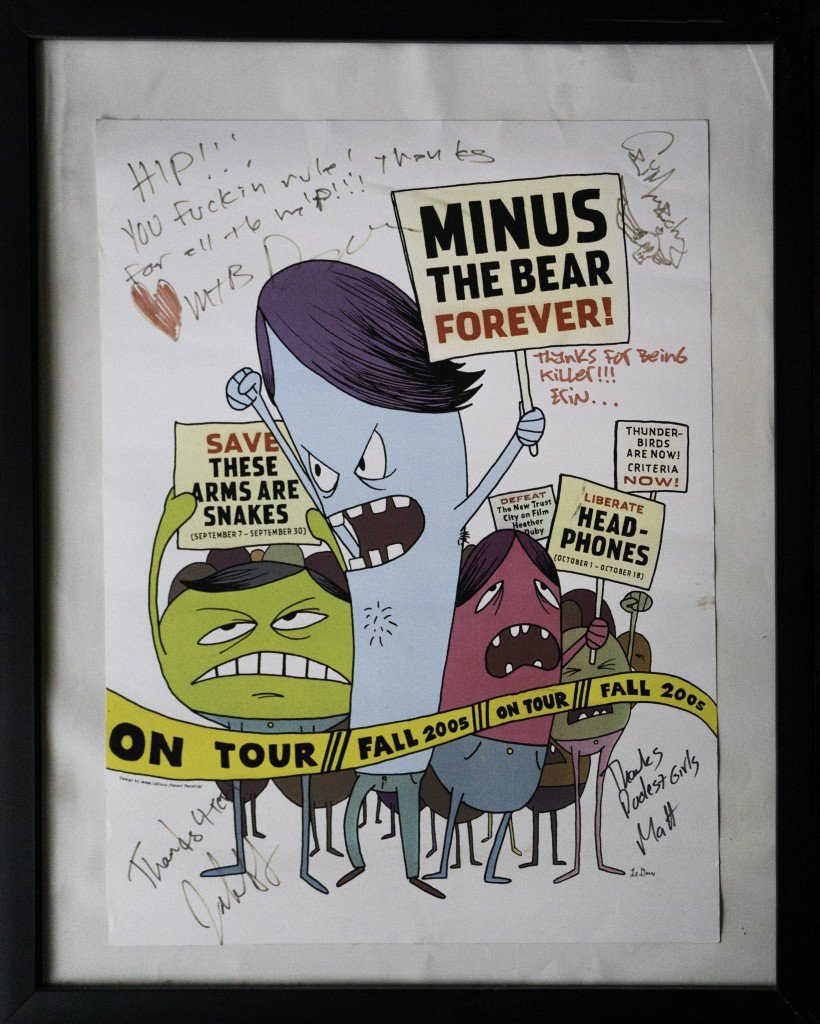 Minus The Bear had already been making music for four years at that point: their debut EP This Is What I Know About Being Gigantic was released in 2001 on Suicide Squeeze Records (then a one-man label, run by David Dickenson). Over the years, they became a "flagship" artist for the label, selling hundreds of thousands of records across their catalog, and toured regularly all over the world. Their first full-length album, Highly Refined Pirates, was released in 2002.
Just as the band released their sophomore album Menos el Oso in the summer of 2005 (and right around the time of the tour), we were brought on board to promote "The Game Needed Me"; shortly after, we promoted "Pachuca Sunrise" in the spring of 2006. Minus The Bear's third album Planet of Ice came out in the summer of 2007 and we promoted "Knights" right away, and "Throwin' Shapes" the following spring. Following that, the band signed to Dangerbird Records where they released two albums: Omni in 2010 and Infinity Overhead in 2012.  But for their sixth (and ultimately final) album VOIDS in 2017, they returned to Suicide Squeeze, their original label home – and returned to HIP to promote the video for "Last Kiss."
It's been a pleasure seeing Minus The Bear grow as a band since we first worked with them 12 years ago. Their blend of progressive indie-math-rock is something none of their contemporaries can match, their guitar gymnastics something sure to influence a new generation of artists. Unfortunately, all good things must come to an end, and last week, Minus The Bear announced that after 17 years as a band, they would be breaking up following a final tour and EP, Fair Enough. The tour will begin on October 9 in Nashville and come to a close on December 14 right where things started: in Seattle at The Showbox, a venue they've played many times before. Caspian (October 9 through October 28) and Tera Melos (November 27 through December 14) will be joining them for support. "Fair Enough", the title track from the EP, is now available for streaming, and along with a lengthy interview on Stereogum, the band shared a statement regarding their break up:
Friends,
After almost two decades of writing and touring the world together, we have decided to close this chapter of our lives as Minus the Bear.
What started as a silly inside joke inside the dingy confines of Seattle's original Cha Cha Lounge back in 2001 quickly snowballed into years of adventures, creativity, and friendship. We could have never predicted the wild journey about to begin. We've accomplished so much over the past 17 years, and we are grateful for the experience.
Undoubtedly we owe all of these adventures to you, our fans. Without all of you, the memories of traveling the world, exploring different cultures, and witnessing the delight of your beautiful faces singing along wouldn't have been possible. Your support weathered us through storms that easily could have scuttled the band. Throughout the years, it's you who kept us going. We cannot thank you enough.
This Autumn we head out on our final tour in support of our upcoming 4-song EP "Fair Enough" courtesy of Suicide Squeeze Records.
These final shows are a celebration for the community of fans who gave us so much through years of dedication. We'll be digging deep in the MTB catalogue and we are honored for the opportunity to play our hearts out for you one last time.
Love,
Alex, Cory, Dave & Jake
Are you emotional? We certainly are! The story of Minus The Bear – climbing from underground rock clubs to legendary venues – is a motivating one for sure. Fair Enough is already available for pre-order, and we certainly encourage you to pick it up. Don't miss out on tickets to their Farewell Tour either – head to their website for pre-sale tickets and to see if they'll be in a city near you this fall. (Some of the HIP Family are planning to check out their show on October 26 in Asbury Park, New Jersey – will we see you there?)