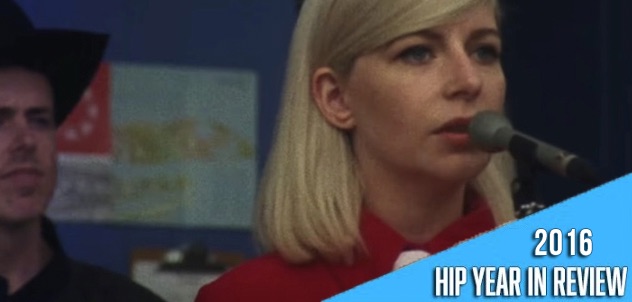 2016 saw us work with some extremely talented artists. Along with that, the Cubs broke their World Series curse, Netflix first aired their hit show Stranger Things, and Prince and David Bowie sadly passed away. These are some of the hottest videos HIP promoted that year: 
Bob Mould – "Voices In My Head" – 273,916 views – An embodiment of a complicated state of existence that Mould has refused to run away from, the "Voices In My Head" video is only the first part of a longer story following the artist's inner conflict. The clever use of costume design has Mould fighting against variations of himself. 
Tritonal – "Blackout" – 1,807,566 views – After a breakout year for Tritonal, the band released their long-awaited single "Blackout," with a video that delivers a wondrous story of a special bond. Futuristic beat drops and wild distortion effects take viewers to a whole other world. 
Justina Valentine – "Suga Daddy" – 676,649 views – Valentine boldly showcased what comes with her lavish lifestyle in a video that has more luxury cars, mansions, and piles of cash than you can count. Throw in an Albino python, and you get to witness the complete opulence surrounding her in cinematic fashion. 
Astronautalis – "Running Away From God" – 261,055 views – A literal marathon you'll never get tired of, this energetic Astronautalis track is complimented by a city-wide chase that reels you in with very real feelings of tension. With a life full of wild experiences, he masterfully explores one of his many tales in this fast-paced video. 
Julia Jacklin – "Leadlight" – 482,235 views – Reminiscent of a Wes Anderson film, the "Leadlight" video encapsulates an adolescent nostalgia that works well with Jacklin's methodically mellow vibe. The Sydney artist hits the mark in manifesting, through her music, an intimate examination of a life still being lived. 
The Coathangers – "Down Down" – 353,758 views – "Down Down" remains a perfect example of The Coathangers' ability to pay homage to early sounds and styles while also incorporating their own twist. Digital effects over the meshing of the 60s aesthetic with modernized rock make for a one-of-a-kind experience only The Coathangers could pull off. 
HOTEI – "Move It" (Featuring Richard Z. Kruspe) – 229,283 views – At the start of a new era for Hotei, the legendary Rock artist's commanding guitar skills are on full display alongside Kruspe's striking vocals for this in-your-face video. Proficient lighting in the black-and-white landscape and the variety of close-up shots allow such raw emotion to shine through. 
Jim Peterik – "Caught Up In You" – 46,317 views – A twist on the 38 Special hit, this rendition breathes new life into the track more than 40 years later. Peterik, opting for a ballad of piano and piano behind the vocals, shares the stage with two instrumentalists, both enchanted by the track's melody. Fresh and timeless, like every other song Peterik has been a part of, the legend shows that even after an illustrious career, he isn't slowing down. 
Thomas Gold – "Saints & Sinners" (Featuring M. Bronx) – 240,064 views – Telling a tale of a saint lost to his sinful actions, the compelling narrative of the "Saints & Sinners" video is accompanied by breathtaking cinematic visuals. M. Bronx's stellar vocals over the trademark Thomas God gem drive this cinematic masterpiece. 
Mike Doughty – "I Can't Believe I Found You In This Town" – 43,718 views – In another video that skillfully recreates a past experience, Doughty builds the whole world around a tale of a failed romantic connection. With some of Coney Island's famous landmarks and a range of diverse characters, the video behind the soulful track conveys the familiar warmth of a young summer love. 
MD – ICBIFY EMBED
Written by Eliana Rodriguez, HIP Social Media Manager and Assistant Marketing Coordinator.