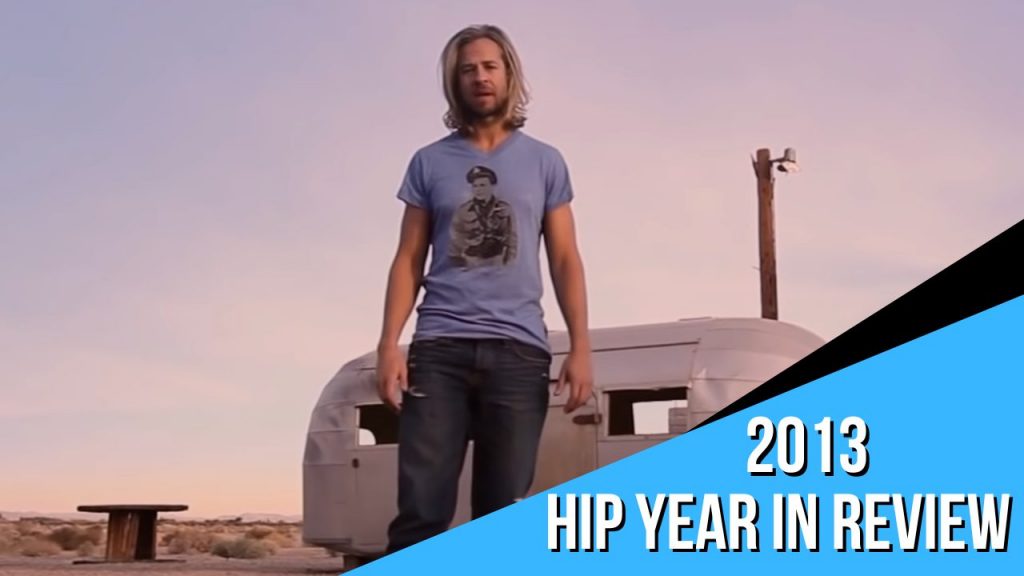 Did you know that HIP is an acronym? Many years ago, our company's full name was Hedgehog Independent Promotions. Everybody knows we go by HIP, yet nothing about our execution of successful music video marketing campaigns has changed. 
Take the tremendous set of 2013 music videos we championed as examples. At the time Lorde took the music world by storm, Disney's Frozen hit theaters, and HBO's Game of Thrones series recreated one of the most memorable events of the book series, "The Red Wedding," these are music videos that crossed our path in 2013: 
Armin Van Buuren – "This Is What It Feels Like" – 122,730,147 views – "This Is What It Feels Like" expresses how it feels to be without someone special and important to you. Sometimes, whether that means they are gone for good or just out of your life, it does not make the pain any easier to handle, and Armin Van Buuren captures that seemingly endless yearning in this song featuring Trevor Guthrie. Despite the heavy subject, it could not be more danceable and exuberant. Visually, they feel the breeze blowing through their hair, cruising and racing in their blue and green convertibles with a beautiful girl they lust over. They also find themselves getting into trouble and pulling some risky stunts in a roadside diner and by the train tracks. In the end, though, it is clear that Van Buuren is still working on getting over the referenced muse in "This Is What It Feels Like" amidst all the distractions at the moment. 
The Zombies – "Any Other Way" – 20,983 views – Since the band was founded in the early 1960s, The Zombies have made waves with all its rock genius. Their debut album included charting singles such as "She's Not There" and "Tell Her No," and that same revered sound can be heard years later with "Any Other Way." It was The Zombies' first-ever music video. Colin Blunstone's vocals are laden with emotion as he performs the song on stage with his fellow band members to the lovers who were not meant to be but want nothing more than to be able to reunite. The chorus suggests that if there were another way for them to make things work since the day they had to separate, there would be no second thought about taking back the romance they once cherished. There are still noticeable remnants of why they needed to split shown in the music video, making an overall memorable, impactful first project like this for The Zombies. 
of Montreal – "Fugitive Air" – 84,445 views – Back again in this blog series is one of our all-time favorite clients, of Montreal, but this track is not like the ones we have reviewed before. With the group's Lousy with Sylvianbriar album, they decided to change their musical approach from one highly driven by funky, infectious instrumentals to being more lyric-based, delivering more rumination and vulnerability. "Fugitive Air" holds the band's admired grooviness, but the focus is on the abstract storytelling along with a video that is quite explicit while matching that same outside-the-box artistry. Frontman Kevin Barnes sings with the psychedelic blend of colored lights projected across him, but there are also shots of him and his wife doubling as the video's director, Nina, sharing intimate moments. Varying in degrees of scandalousness, there is a mix of wholesome memories with those that push the envelope. They, too, get into the colorful theme as their faces and bodies become more dyed and painted throughout the duration of the video. 
Watch it HERE.
Sarah Jaffe – "Vision" – 9,232 views – It is exceptional when artists can put their creative visions into action in a tangible form. Also, when jumping between polar opposite genre styles, they reinvent their distinctive sound, lure in new audiences, and keep consistent with the parts loyal fans love. These qualities are epitomized by Sarah Jaffe, Sam Lao, and ZHORA in "Vision." Regarding the former, she sure knows how to shine in an '80s-inspired music video. The fluorescent diagonal stripes partnered with the trio's bold, bright blazer outfits make it hard to keep your eyes off your screen. Their harmonies work nicely, and each of their strengths offers audible color that is inimitable otherwise. As for the latter, the vibes for this single are totally different from those in her folk acoustic guitar hit "Clementine" covered in HIP's Year in Review for 2010. Rather, she flexes her versatility and growth through this electronic pop banger. 
She & Him – "I Could've Been Your Girl" – 5,240,020 views – Talk about a triple threat? Try quadruple. Zooey Deschanel sings, dances, acts, and with "I Could've Been Your Girl," directs too. The plot of the song and its respective visual is that she is trying to attract M. Ward, who is too preoccupied reading the newspaper and doing anything but entertaining her performance to have such sparks fly. Viewers will be drawn into the fun quirkiness of the music video from beginning to end, as well as Ward's stellar guitar solo and Deschanel's sweet, flirty songwriting. She & Him is yet another case where team HIP was instantly sold on their creative projects with their first outstanding campaign with us in 2008, and the views on "I Could've Been Your Girl" show how they were a consistent favorite for people far beyond the walls at HIP HQ too. 
Someone Still Loves You Boris Yeltsin – "Nightwater Girlfriend" – 60,130 views – Get this: at the time we were promoting the "Nightwater Girlfriend" music video, Someone Still Loves You Boris Yeltsin (SSLYBY)'s frontman Philip Dickey told us how he always joked about the band having to go their separate ways if Boris Yeltsin himself ever found out about their group. However, Yeltsin's eventual discovery of them turned out to be a better situation than they could have ever imagined. SSLYBY was invited to fly to Russia and meet Yeltsin and others associated with him, which also involved them becoming the first American group to play at Old Nu Rock, Russia's largest winter rock festival. The experience inspired so much of the band's music from there, including Fly By Wire with "Nightwater Girlfriend." The single screams '90s pop, and the video upholds that retro aesthetic, encompassing sequined suits in quite a few of the clips with them performing, mixed in with shots of SSLYBY at their local water park. 
The Dead Daisies – "Lock 'N' Load" – 670,764 views – The Dead Daisies are not your typical rock and roll band. They are a collective that cycles between members for different tracks in order for each production to reach its maximum potential. Our first of over 20 campaigns with them was for "Lock 'N' Load" featuring Slash. The song and video's protagonist is a young boy surviving in the woods. He conquers with his bow and arrow until being ambushed by a female tribe of the land. His date is to be determined once the music video finishes. The guitar riffs and screams dominate the instrumental, and Jon Stevens' fervent vocals get the story across just as well as we know The Dead Daisies do with every release to date. Most recently, in fall 2022, the HIP team serviced their studio-recorded music video for "Face Your Fear", confirming their capacity for rock and roll greatness continues to hold. 
Drew Holcomb & the Neighbors – "Good Light" – 476,124 views – Based in Tennessee, Drew Holcomb & the Neighbors bring country, pop, and folk together in their smashing hits. "Good Light" is the title track of the group's 2013 album. In the single, Holcomb shows his appreciation for that person in his life who has the brightness to get the two of them through any darkness that may reveal itself throughout their life journeys. We all have them, whether a lover, family member, friend, or even a pet, that provides a bit of support to keep going when times get rough. They all play the song in the middle of the autumnal countryside, and the other related imagery lines up with similar open settings. Simultaneously, somebody exhibits what it is like to go through the motions, yet they have someone to make a world of difference regardless of the circumstances. 
STRFKR – "While I'm Alive" – 2,341,307 views – "Dancing can be taken very seriously, but it's also something we do to let everything go — to let loose, have fun and enjoy life. So dance made sense for this — a serious topic with a warm, light-hearted approach." The STRFKR "While I'm Alive" music video director, David Terry Fine, could not have described this visual any better. Nothing about the first few frames foreshadow epic electronic dance music, but audience members are quickly proven wrong as the old man turns off his bedside lamp, and the kick drum beats and groovy synthesizers take full effect. STRFKR has deeper lyrics than usual for EDM stylings here too, and with that, in the artistic, musical mini-movie, younger versions of the man, his late bride, and backup dancers spawn to help the elderly gentleman remember that age is only a number and to keep living life to its fullest. 
Written by HIP Marketing Coordinator Julia Block.