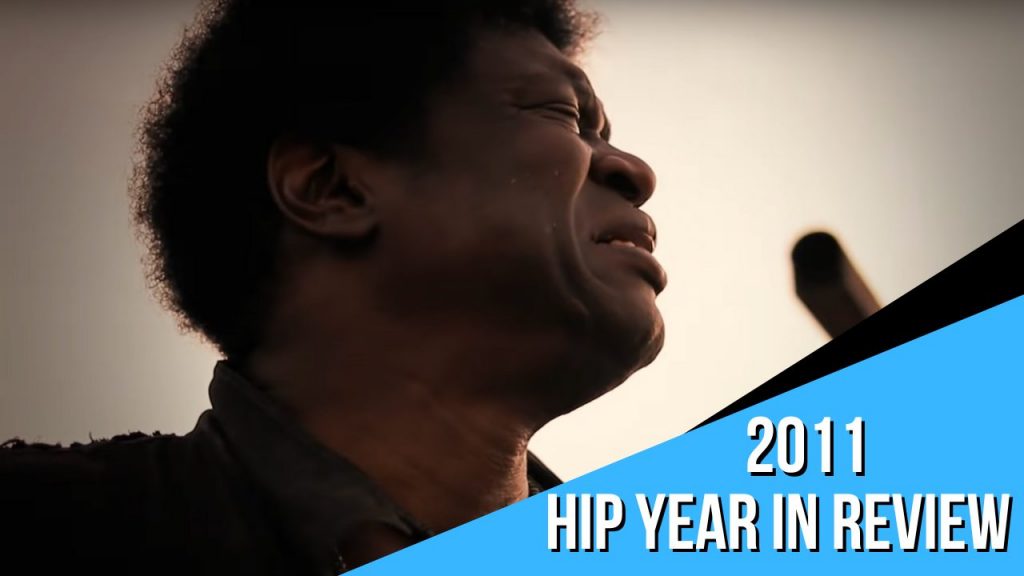 The HIP Video Promo team has spent the past 22 years fighting the good fight for exceptional independent creatives and well-established artists alike. With an abundance of top-notch talents to look back on, 2011 brought a lustrous collection of musicians and music videos. 
That's not all 2011 delivered. Canadian indie rock band Arcade Fire walked away from the Grammy awards with The Suburbs winning Album of the Year. The ever-popular Harry Potter film series came to a close after a decade-long run with the release of Harry Potter and the Deathly Hallows – Part 2. ABC ended the soap operas All My Children and One Life to Live soap operas. 
Focusing back on the HIP sphere, below are a few of the campaigns we carried out in 2011: 
Bon Iver – "Holocene" – 101,715,555 views – For this analysis of "Holocene" to make any sense, it's important to note that all of the songs on Bon Iver's self-titled album were named after specific places. "Holocene" was named after a bar in Portland, Oregon, but it was written with a double meaning, with holocene also being a geologic time period. He revealed in an interview around the "Holocene" release that part of the mystery and wonder associated with it represents the magnificence and lack thereof in our lives, with Bon Iver feeling not so magnificent in the magnificent world around us. Hence, his lyrics are metaphorical and conceptual, and the visual plot in the video fully realizes the ultimate message through the small, young, soft-sweatered boy out exploring the many miles of Iceland. It shows how magnificent we are despite how small we might feel in the big world. 
Charles Bradley – "The World (Is Going Up In Flames)" – 1,787,522 views – Charles Bradley brings a whole new meaning to soul music. His music is utterly a work of heart that lays all his authentic, palpable emotions before the listening audience. "The World (Is Going Up In Flames)" sheds light on Bradley's world perspective and the fact that the world needs improving. It comes down to not mattering who or what caused the world to get to its current state since no one wants to take ownership and responsibility for that, but we should all care enough to want to make it a better place. Bradley clearly cares about it a lot, as every raspy word and note he sings makes you feel something. In the video, he meanders around his hometown in Brooklyn, New York, and his facial expressions throughout are a tell-all of how deep his connection truly is to this song. Click the link below and see for yourself.
Okkervil River – "Wake And Be Fine" – 236,244 views – It's a performance video meets lyric video all in one Okkervil River package. As the rock band plays "Wake and Be Fine," the lyrics flash in bold black on the white backdrop behind them individually and collectively. For new and returning fans, this music video spotlights Okkervil River's impeccable songwriting and emphasizes their evident entertainment factor, too. This single was released as the leading track on the group's I Am Very Far album that came out soon after. "Wake and Be Fine" only heightened the excitement, especially when Okkervil River played this song for international viewership on Late Night with Jimmy Fallon. At the time of this blog post, Okkervil River is now on tour through March 2023, so it checks out that their performability is a major appeal for their loyal following. 
Blitzen Trapper – "Love The Way You Walk Away" – 339,063 views – Frontman Eric Earley made his admiration for Grateful Dead's musical stylings known, considering his included reference to "Brokedown Palace" in Blitzen Trapper's "Love The Way You Walk Away." The country alternative song is highly reflective in nature, looking back on a relationship post-breakup that he feels remorse and guilt for not going about it differently in certain respects. The instrumental is complete with banjo and harmonica mixed with the classic guitar and drums often present across the board. Blitzen Trapper's aptitude for storytelling with detailed imagery and language brings the thoughts about how things turned out between the couple from pen to page without a hitch. Visually, we see the band practicing "Love The Way You Walk Away," but they also go about their casual pastimes and simply enjoy one another's company on their journeys. It was cool for Blitzen Trapper to give us this glimpse into what they do beyond their widely well-received music, even for just three and a half minutes. 
Washed Out – "Eyes Be Closed" – 652,997 views – Driving her motorcycle, the focus of the "Eyes Be Closed" music video is on the unnamed beauty riding wherever the video's green screen effects take her. From the city to the countryside to the metaphysical, geometric environment beyond existence, she nonchalantly cruises along the path the road leads. This Washed Out visual was directed by the ingenious Timothy Saccenti, who has done excellent photo and video art with Usher, Franz Ferdinand, Lana Del Rey, Pharrell Williams, Coldplay, and other easily distinguishable industry names. The relaxing song will make you want to close your eyes to really take it all in and appreciate the message instilled within: to see the beauty in the world in every precious moment. The video sums this theme up perfectly. As HIP's owner and president Andy Gesner says, "It's a short dance in the sun," so it's vital for all of us to "Find the source of light" in our short, sweet lives while we can. 
Title Fight – "27" – 799,565 views – These Title Fight clips may not be best for those who are in any way superstitious, yet superstitions are the cornerstone of "27." Throughout the video, a black cat roams and makes special appearances in the living room that doubles as a studio for the band to perform. Also in this indoor space, the bandmates take turns singing and playing under a black umbrella and leave a ladder nearby to walk under. There is so much being left to chance with the potential for bad luck, but the significance of the song "27" is that the number symbolizes revival, strength, and new beginnings, which is the complete opposite of the superstition probability spectrum. Title Fight's aggressive screaming persists in this track from start to finish while they are overtly attempting to use the power of 27 to bring back the song's lost muse. 
The Glitch Mob – "We Can Make The World Stop" – 4,851,821 views – Think of the epic EDM productions from Daft Punk and Deadmau5, and The Glitch Mob rises to the occasion to meet their superior dance music caliber. "We Can Make The World Stop" layers the deep and low-pitched electric guitar and synthesizer sounds with chiming, high-pitched piano keys and a repeating digitized voice saying, "We Can Make The World Stop." The leading male role in the video is a young man being inducted into a tribe of psychic warriors training him in telekinesis and other powers of the mind that can take physical form. This music video from The Glitch Mob surely made the music-loving world stop and revel in their creative prowess here, but nothing beats their live shows. They just wrapped up a tour in October 2022, but when we were promoting "We Can Make The World Stop" in 2011, everyone flocked to them for their musical light shows with Cirque du Soleil acts that lent something eye-catching to their ear-pleasing soundtracks.
Patent Pending – "One Less Heart To Break" – 230,923 views – By no means can you listen and watch Patent Pending's "One Less Heart To Break" music video and not feel heartbroken for the struggling actors that the song revolves around. It packs a hard-hitting, emotional punch since the band teamed up with To Write Love on Her Arms, a nonprofit aiming to support people struggling with addiction, depression, self-injury, suicidal thoughts, and other similar mental illnesses while also helping them in getting treatment and recovery. The tie-in for "One Less Heart To Break" is that the two suicidal individuals attempt to take their lives to escape the cruel world. The events that follow show how others are affected by their actions, and Patent Pending seeks to make listeners know that they are not alone amidst life's ups and downs. The overarching story will stay with you long after it is heard and viewed. 
Explosions In The Sky – "Last Known Surroundings" – 366,197 views – Have 8 minutes to spare? Embark on the Explosions In The Sky expedition in "Last Known Surroundings." The song may not have words, but the sonic intricacy can usher you through the digitized territories displayed. It is constantly changing to different audible aesthetics that work with environments that range from abstract, glow-in-the-dark shapes to illustrated rivers, waterfalls, hills, and forests. Explosions In The Sky celebrated the 11th anniversary of the album Take Care, Take Care, Take Care, including "Last Known Surroundings" in April on their social channels this year, and in 2011, the album peaked at 16 on the Billboard 200 charts.
Low – "Especially Me" – 660,139 views – Just reviewing our top artists' videos in 2011, it is safe to say that numerous artists were taking a deep dive into the many facets of life as we know it. It has already been explained through the works of Bon Iver and Patent Pending, and now it is Low's turn. The chorus in "Especially Me" is where Low's philosophical thinking is most prominent. There would almost be no substance in navigating life if we knew where we were supposed to end up all the time, so knowing where we are from and having each other to figure out each step is the beauty of the endless unpredictability every day. We are in control of our lives, to some degree at least, which is why vocalist and drummer Mimi Parker's New York City subway delivery of "Especially Me" fits so nicely. She just rides it out, lost but not fully, as there is always a set destination to reach. It is a fitting allegory for our infinitely possible paths leading us to where we are meant to be. 
Hayes Carll – "Another Like You" – 2,039,970 views – Hearing Hayes Carll and Bonnie Whitmore's free and easy guitar playing and delightful vocal twang, it is interesting how much "Another Like You" is infused with politics and is not just another country love song. As the text description addresses, Hayes' working title for this song was "Fox vs. MSNBC" at the time of its recording, which was during the Music Fog sessions at the 2010 Americana Music Festival. Carll made his inspiration and message for the song and video crystal clear while talking about it with American Songwriter magazine. He found himself listening to right radio more while touring and performing music, even though he has always been on the left side, yet he enjoyed getting its contrasting point of view. Embracing the idea of opposites attracting, "Another Like You" draws the picture of a Democrat being attracted to a Republican and vice versa. Carll is the Democrat and Whitmore is the Republican, but their back-and-forth flirtatiousness and banter leads to a hotel fling. Whether it escalates further than that, we don't know, but it shows how being open to differing opinions and putting our affiliations aside can broaden horizons for the better of both parties. 
Written by HIP Marketing Coordinator Julia Block.